The EU was set to continue efforts Saturday to resolve the dispute between Russia and Ukraine over the transit of gas supplies that has left tens of thousands in Europe without heating.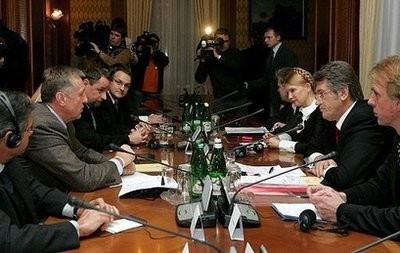 President of Ukraine, Viktor Yushchenko (2ndR), Prime Minister of Ukraine Yulia Tymoshenko (3rdR) and Prime Minister of Czech Republic Mirek Topolanek (2ndL) attend EU-Ukraine talks in Kiev. (AFP Photo)
Czech Prime Minister Mirek Topolanek, who has been spearheading European Union mediation efforts, was due to hold talks with Russian Prime Minister Vladimir Putin as work continued on resolving the details a deal to resume supplies.
Wrangling over pipeline monitors on Friday delayed the reaching a final agreement, but after talks in Kiev Topolanek said a deal was not far off.
"What remains to be done is to fine-tune the technical details and to agree on the signature of a trilateral agreement," said the current EU president.
Russia cut off gas for Ukraine's domestic market on New Year's Day after the two countries failed to reach an agreement on payment by Kiev of arrears and on new prices for 2009.
It followed a week later by cutting off all gas transiting Ukraine for customers in Europe, blaming Kiev for shutting all possible outlets for Russian gas to Europe and accusing the Ukrainians of "stealing" Russian gas.
With much of Europe in the grip of a cold snap that has sent temperatures far below freezing and numerous countries heavily or completely dependant on Russian gas, the European Union stepped in to broker a deal.
Deploying observers to monitor the transit of gas through Ukraine has emerged as the key to a deal to resume supplies because it would be clear if Russia was pumping gas destined for Europe and if Ukraine was using it for its own purposes.
President Dmitry Medvedev reiterated Friday that Russia is ready to resume pumping gas through Ukraine to Europe immediately, but will do so only after Ukraine has signed an agreement on independent flow verification.
Russia has insisted the monitoring commission include representatives from four parties: Ukraine's gas company Naftogaz, Russia's Gazprom, the gas firms of European consumer states and European Union gas experts.
Kiev has been reluctant to let Russians monitors work on Ukrainian territory, but Topolanek said that matter had been resolved during Friday's talks.
Ukrainian Prime Minister Yulia Tymoshenko told reporters Kiev was prepared to sign the deal and would do so "as soon as possible."
In Brussels, the European Commission said even once the two sides agreed to resume shipping gas to Europe it would take at least three days for deliveries to reach Europe.
In eastern Europe, the area most dependent on Russian gas and currently experiencing exceptionally low temperatures, scores of schools have been shut down and thousands of households left without heating and hot water.
Serbia secured a gas delivery from Germany and Hungary on Thursday and helped out Bosnia with a gas loan on Friday.
In the snow-blanketed Bosnian capital Sarajevo, about 72,000 households remained without heating for a fourth day due to the halt in Russian supplies.
In Bulgaria the government began rationing gas supplies to industries and temperatures in buildings plummeted. Seventy-five schools across the country were closed for lack of adequate heating.
Even after the dispute over the transit across Ukraine is resolved, Kiev and Moscow still have to solve their standoff over the gas Gazprom supplies to the domestic Ukrainian market.
Thousands of homes were left without hot water in southern Ukraine on Friday because of the gas crisis, as companies across the country were forced to reduce operations and schools were closed.
Gazprom chief Alexei Miller said on Friday that there had been "no progress" in the negotiations with Ukraine and that Ukraine would have to pay around 470 dollars per thousand cubic metres of gas in the first quarter of 2009.
Ukraine paid 179.5 dollars in 2008, far less than what EU states pay.