European Union leaders on Thursday discussed cutting the working week and other measures to bolster employment as the international economic crisis threatens millions of jobs.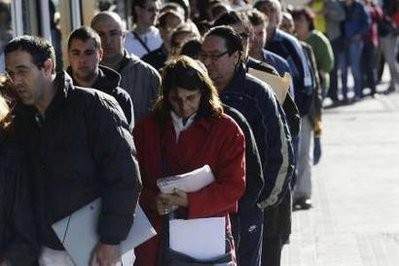 People line up to enter a government job centre in Madrid May 5, 2009.
Ministers from the Czech Republic, Sweden and Spain -- the current and future holders of the EU presidency -- attended the jobs summit with senior EU officials.
With the crisis expected to wipe out 8.5 million European jobs over two years, the summit discussed cutting working hours and ways to prevent job losses becoming long-term unemployment.
A draft statement says EU member states "must aim at maintaining as many people as possible in jobs. To this end, a temporary adjustment of working hours can be an effective policy option for firms of all sizes."
Jean-Claude Juncker, the Luxembourg prime minister and chairman of the Eurogroup of finance ministers, warned recently that the EU is "in the heart of an economic and financial crisis and we are heading towards a social crisis."
The European Commission forecast on Monday that Europe was set to see unemployment rise to the highest levels since World War II with 8.5 million Europeans expected to lose their jobs in 2009 and 2010.
"We must protect the most vulnerable, prevent immediate job losses from turning into long-term unemployment, and preserve the longer-term objective of combating the effects of demographic ageing and declining work force," the EU meeting draft said.
Spanish Labour Minister Celestino Corbacho said upon arrival: "This is the first time during the crisis that we are going to deal specifically with the issue of unemployment."
The format of the meeting was downgraded however from an originally planned full EU summit to a troika meeting between the Czech EU presidency, European Commission chief Jose Manuel Barroso and officials from Sweden and Spain, the upcoming presidencies.
Czech Labour Minister Petr Necas told AFP that the priority was to take steps that will not burden public finances, create long-term debt or involve protectionism.
He said he wanted the meeting "to define joint approaches that will focus on creating new jobs by cutting side costs, removing rigidities on the labour market and reducing the administrative burden... above all for small and medium-sized companies."