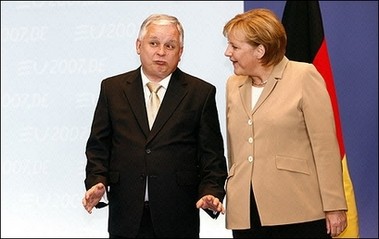 German Chancellor Angela Merkel (R) chats with Poland's President Lech Kaczynski as they pose for photographers at the start of the European Union summit in Brussels.(AFP Photo)
European Union leaders were to resume debate Friday on a package of sorely-needed reforms after failing to bridge major differences overnight, with Britain and Poland notably resisting an agreement.
Officials, led by the EU's German presidency, worked through the night to resolve technical and political issues after "an initial exchange of views" between the bloc's leaders over dinner Thursday ended without breakthrough.
"The atmosphere was good, it was open, so we can continue our work but we cannot yet announce any results and we can't say whether we will succeed or not," German Chancellor Angela Merkel told reporters.
The French presidency said Friday it was very hopeful that agreement would be reached.
The presidency said earlier that Sarkozy had proposed a compromise solution to Poland in a bid to persuade it to drop its opposition to voting procedures, the main stumbling clock in negotiations on a new EU treaty.
Merkel is hoping to clinch agreement on a "reform treaty", prepared in months of behind-the-scenes negotiating, to simplify the way the EU makes decisions as it expands and replace the failed constitution.
But despite having the backing of around 23 of the 27 member countries, a group of hardline states stand in her way: Britain, the Czech Republic, the Netherlands and Poland.
European Commission chief Jose Manuel Barroso said that an agreement which would ease the four nations' concerns about surrendering national sovereignty to an imagined European superstate was still some way off.
Prime Minister Tony Blair's spokesman underlined that Britain was not feeling isolated at the summit, even as he restated the "red lines" that it would not allow its EU partners to cross.
With its eurosceptic press baying for blood, London has warned that it will not cede national control over foreign policy, the judicial and police system, or tax and social security rules.
It also opposes making a charter on fundamental rights -- the EU's civil, political, economic and social rights -- legally binding.
One country which may be moving is Poland, whose leaders have said it is "willing to die" to have its way on a new system for sharing votes among EU states.
"There are proposals which could be a solution equivalent to our proposition, but they need to be discussed some more," Polish Foreign Minister Anna Fotyga said, adding that meetings with "key partners" would follow.
As the first day of talks stretched into Friday, Sarkozy made a compromise solution to Poland in a bid to persuade it to drop its opposition to voting procedures, said his spokesman David Martinon.
The Ioannina compromise, named after a Greek island, was first established by European Union member states in 1994 to allow a small group of countries who had almost enough votes to block a decision to have the decision re-examined.
However a Polish source said the compromise "doesn't go far enough" and added that Warsaw had made a counter-proposal.
Poland had also suggested that any new voting system should not come into force for more than a decade, the source said.
The Netherlands, for its part, has been demanding more power for national parliaments and wants to see the final treaty document before it decides whether to call a possibly perilous referendum.
The constitution was torpedoed by Dutch and French voters in such votes two years ago, sparking the EU's worst-ever crisis.
The Czech Republic had voiced a series of objections, but German officials remain quietly confident that these can be overcome.