BRUSSELS (AFP) – Europe's leaders converged on Brussels Thursday to consider candidates for a coveted new post of EU president, and grapple with differences over helping poor countries fight global warming.
Fresh from a celebratory eve-of-summit dinner in Paris hours after Angela Merkel was sworn in for a second term as German chancellor, French President Nicolas Sarkozy said the EU's twin drivers were in "almost total" agreement on the key issues.
These include tactics for ensuring the Czech president, the remaining hold-out against the 27-nation bloc's Lisbon Treaty, puts pen to paper if and when a Prague court rules against an appeal over the treaty's constitutional legality next week.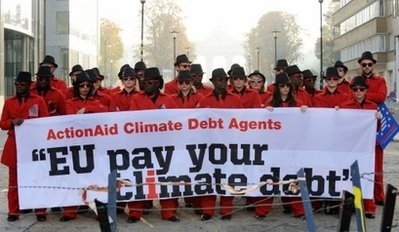 ActionAid activists display a banner prior to a European Union summit near the European Council headquarters in Brussels (AFP photo)
Deeply eurosceptic Czech President Vaclav Klaus on Wednesday gave a "guarantee" that he will sign the treaty -- which aims to streamline decision-making and create new posts -- according to his prime minister, Jan Fischer.
As the current chair of the Group of 20 leading global economies, British Prime Minister Gordon Brown -- who is pushing for predecessor Tony Blair to be named the first EU council president -- the top job which the Lisbon Treaty creates -- has his own agenda.
That includes targets for job creation amid the fear that rampant unemployment will stunt the growth needed to wipe out bloated deficits and potentially exponential debt rises.
Meanwhile, Italian premier Silvio Berlusconi, a pivotal figure in obtaining any consensus on who is named Europe's "George Washington", its first full-time president, was to miss the two-day summit.
The 73-year-old, beset by sex, corruption and media intimidation allegations at home, is said to have contracted scarlet fever from a grandchild.
The EU's rotating presidency, currently held by Sweden, hopes above all to secure a face-saving accord ahead of United Nations talks in Copenhagen in December and stay close to a pledge to find up to 15 billion euros (22 billion dollars) a year from 2013 to help developing countries fight climate change.
It will need to overcome strong objections from nine countries led by heavily industrial Poland -- which wants to make "voluntary" contributions in the near future and base its share of the longer-term burden more on national wealth than on polluting levels.
Sweden also expects leaders to "endorse" plans drawn up for the bloc's new network of foreign outposts, not so imaginatively titled the External Action Service and which will be controlled by the second new appointment, that of foreign policy supremo.
Neither job, a Swedish diplomat said, will be formally discussed -- although with Blair now under growing pressure to declare his intentions after two candidates entered the ring over the past two days, the talk within the summit's cavernous corridors will repeatedly return to the theme.
Whether a high-profile candidate like Blair is finally nominated will be a measure of the leaders' ambition for the new post, essentially whether they think the person should represent Europe on the international stage or be a mere meeting organiser and internal broker.
On Wednesday, Latvia said its prime minister, Valdis Dombrovskis, backed by Baltic neighbour Lithuania, will push former head of state Vaira Vike-Freiberga's candidacy.
Dubbed the 'Iron Lady' of the former Iron Curtain nation, her candidacy followed that of Luxembourg Prime Minister Jean-Claude Juncker -- Blair's strongest opponent at present -- although his suggestion that the president could only come from countries in the 16-member group he chairs that uses the euro currency earned a stern rebuke by London.
"If your measurements were how much a member state contributes to the EU budget or how willing they are to put their soldiers' lives at risk... then the picture would be rather different," a senior British diplomat said.
Meanwhile Dutch Prime Minister Jan Peter Balkenende, another name mentioned for the EU president's post, ruled himself out of the running Wednesday.