European foreign ministers gather Monday to take a first look at the EU's battered reform plans after Ireland's stunning rejection of the Lisbon Treaty.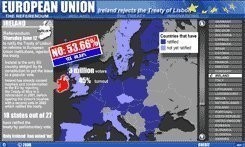 European leaders have vowed to press ahead with the EU reform treaty despite Ireland's shock rejection, as Prime Minister Brian Cowen faces a barrage of criticism over his handling of the campaign.(AFP iactive)
The ministers, in a day of talks in Luxembourg, will want to hear from their Irish counterpart Micheal Martin on whether Dublin believes anything more can be done to get his country to accept the painstakingly assembled document.
Ireland voted "no" on Thursday by 53.4 percent to 46.6 percent, a much wider margin than had been expected, plunging the EU into a new crisis and setting the scene for a tense summit in Brussels on June 19-20.
The ministers will be looking for clues to the way ahead, and seeking assurances from heavyweight Britain, and the Czech Republic's eurosceptic leaders, that they will push on with the process of ratifying the Lisbon Treaty .
But it is unclear whether Ireland will be able to give clear guidance.
"I'm not ruling anything in or out or up or down," Irish Prime Minister Brian Cowen told national broadcaster RTE.
Ahead of the Luxembourg talks, to include an update on the EU mission in Kosovo, Iran's nuclear programme, and developments the Middle East and Burma, leaders have insisted that the final eight countries should endorse the text.
"The others must continue ratification... so that the Irish incident does not become a crisis," President Nicolas Sarkozy said Saturday, some two weeks before France takes over the EU's rotating presidency.
His European affairs minister Jean-Pierre Jouyet was blunter, telling French radio there was "no other solution" than for Ireland to hold a second popular referendum, but that the vote should not be rushed.
"The ratification process must be completed," he said. "And during this period, the Irish will have time to think and see whether, with a few mediations or a request from their part, they can revote."
Belgian Prime Minister Yves Leterme said: "In no case should the union be held up."
Yet attempts to clean up the EU's institutional house so that it can run smoothly with 27 nations have been held up for the best part of a decade.
The last try -- the draft constitution -- was stopped dead in its tracks by French and Dutch voters three years ago.
The previous shot, the much maligned and stop-gap Nice Treaty, was rejected once by the Irish but voted through a year later with their concerns taken into account.
This is the document the EU will continue to hobble along with until its institutional blues are solved.
The Lisbon Treaty, signed in December in Portugal, would notably give the EU more majority voting rather than the difficult-to-achieve unanimity that is required now.
It would create a more permanent president and a foreign policy supremo, while streamlining the executive commission.
But as EU leaders lean toward moving ahead with Lisbon, they again risk being accused of ignoring their citizens, who are already riled by rising fuel and food prices.
Fisherman and truckers have been venting their anger at the high cost of living for almost a month with blockades and strikes, and even inflicted minor damage on the very walls of the EU's institutions in Brussels last week.
"I can't see a situation where we can put this matter again, to be quite honest with you, because the risk to Europe and indeed to Ireland... is to cause even more damage," Irish Integration Minister Conor Lenihan told RTE.
Even if EU leaders press Ireland for a new vote at the end of the week, it is unclear what changes could be made to placate the public, so diverse and diffuse were the reasons given to reject the treaty during campaigning.
"The no vote was based on a ragbag of reasons to which there is no obvious response. The turnout was respectable. So a second Irish referendum would probably be doomed to failure," the Financial Times daily said in an editorial.