The leaders of four EU countries and Turkey gathered here to sign a landmark deal to build a gas pipeline reducing European reliance on Russia amid lingering questions on who will supply the gas.
Turkish Prime Minister Recep Tayyip Erdogan was hosting the gathering, attended also by his counterparts from Austria, Bulgaria, Hungary and Romania, through which the 3,300-kilometre (2,000-mile) Nabucco pipeline would pass.
The project, long delayed by lack of commitment from suppliers, is planned to become operational in 2014 at an estimated cost of 7.9 billion euros (10.9 billion dollars), with a capacity to pump 31 billion cubic metres of gas from the Caspian Sea to Austria via Turkey and the Balkans, bypassing Russia.
In a sign of the importance attached to the project, European Commission chief Jose Manuel Barroso, Prime Minister Nuri al-Maliki of potential supplier Iraq and US special envoy for Eurasian energy Richard Morningstar attended the gathering.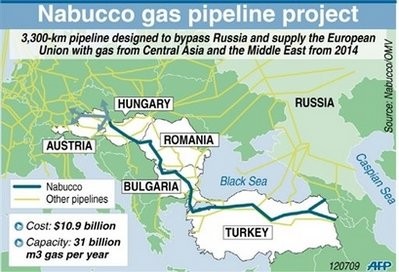 Map of Europe showing the route of the planned Nabucco gas pipeline.
A quarter of all natural gas used in Europe currently comes from Russia, with several southern European counrtries depending almost exclusively on Russian supplies.
The Nabucco projects aims to avoid a repetition of the cut-offs which have recently disrupted supplies to Europe amid freezing temperatures.
It is in direct competition with Russia's South Stream which will carry Russian gas through Bulgaria to Western Europe under the Black Sea.
Nabucco's primary potential supplier Azerbaijan, represented by its energy minister at Monday's meeting, insists it has enough reserves for the conduit, but last month it signed a deal to export gas to Russia starting in 2010, raising concerns among Nabucco proponents.
The project appeared to get a boost on Friday when Turkmenistan President Gurbanguly Berdymukhamedov said his country was prepared to supply Nabucco with gas.
Turkmenistan, along with Kazakhstan and Uzbekistan, had held off their support at a meeting in Prague in May. Iraq and Egypt have been mentioned as two other potential suppliers.
Officials say the signing of the intergovernmental agreement on Monday would serve to boost the project's credibility and lead gas exporters to think seriously about supplying the pipeline.
The gas can flow into Turkey from four possible entry points: Georgia, Iran, Iraq and Syria, a European Commission official said in Brussels on the condition of anonymity.
The official, however, ruled out Iran's participation, opposed also by the United States.
Two European banks have expressed readiness to finance the project, but analysts say securing the cost could be difficult amid the global economic slowdown and uncertainty over suppliers.
Monday's signing "is a very significant achievement... (but) we have to recognise that there is still a lot of work to be done," Morningstar told reporters ahead of the meeting.
The signing of the agreement has been delayed also by Turkish demands to use 15 percent of Nabucco's gas for domestic use or even for re-export.
EU officials said Ankara's concerns were to be addressed by an arrangement, under which the pipeline would operate both ways, giving Turkey access to European stockpiles in times of need.
The pipeline's shareholders are Austria's OMV, Turkey's Botas, Bulgaria's Bulgargaz, Hungary's MOL, Romania's Transgaz and Germany's RWE.