STRASBOURG, March 26, 2009 (AFP) - The European Union's Czech presidency Wednesday blasted US plans to spend hundreds of billions of dollars to revive its economy as a "way to hell", before downplaying the remark to avert a diplomatic crisis.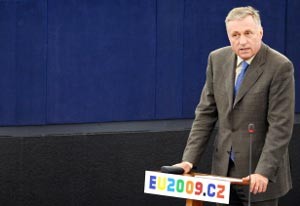 Czech Prime minister Mirek Topolanek, whose country assumed the EU's rotating presidency for six months in January, addresses deputies at the European Parliament in Strasbourg, France, on March 25. (Photo: AFP)
Outgoing Czech Prime Minister Mirek Topolanek told lawmakers at the European Parliament in Strasbourg that "the United States is not on the right path" with its costly plans to jump start the world's biggest economy.
"All of these steps, their combination and their permanency is a way to hell. We need to read the history books," he said.
Czech Vice Prime Minister Alexandr Vondra later sought to play down the comment, denying before journalists at a news conference at the parliament that Topolanek made the "hell" remark.
An AFP check of the original recording found that Topolanek did indeed make the comment.
Topolanek is seen at home as being deeply conservative on economic issues and has long opposed state intervention in the economy. He is due in any case to submit his resignation to President Vaclav Klaus later this week after his government was narrowly defeated in a no confidence vote on Tuesday.
The incident cast a shadow over transatlantic economic relations just days ahead of a key G20 summit in London on April 2 where leaders from the biggest economic powers are supposed to tackle the global crisis.
It also comes ahead of a summit between EU leaders and US President Barack Obama in Prague.
The opportunity to host the US president was supposed to be the crowning moment of the Czech Republic's EU presidency, which has been overshadowed by the collapse of the government and marked by Klaus's open hostility to the EU.
Concern has been expressed over the effect of a political vacuum at the head of the EU at a time of major crisis.
The White House shrugged off Topolanek's comments as being for domestic consumption.
"From what I can tell, the speaker has some domestic political problems that might speak more to what he was talking about," said White House spokesman Robert Gibbs in Washington.
Officials said that Obama would go ahead with the Prague visit on April 4 and 5, despite the government's fall
"The president considers his first meeting with the European Union to be an important opportunity to discuss transatlantic cooperation on a broad range of issues," said national security council spokesman Mike Hammer in Washington.
EU leaders have repeatedly resisted calls to spend more to revive their economies from not only top US and IMF officials but also their increasingly worried publics.
"Timothy Geithner, the American treasury secretary, has spoken of permanent action, which worried us" during the EU summit last week, said Topolanek.
"He spoke of a stimulus campaign in the United States but I don't think that (such) a 'permanent' solution is a real solution," he added.
The "biggest success" of the recent EU summit was "the refusal to go down that path," Topolanek said.
"The United States are going to need cash to finance the measures they plan on taking and they'll do it by selling bonds," he said. "Is that going to bring back stability to the markets?"
Washington is spending hundreds of billions of dollars to support its banking system and stimulate growth as it tries to drag the economy out of its deepest recession in decades.
Meanwhile, the 27-nation European Union has committed to economic stimulus measures in 2009 and 2010 worth 400 billion euros (540 billion dollars), equivalent to 3.3 percent of the bloc's gross domestic product.
The figure includes both national and EU level stimulus measures as well as automatic increases in social spending, such as unemployment benefits, which kick in when the economy weakens.