The European Union's first president Herman Van Rompuy and its new foreign affairs chief took office Tuesday, as the Lisbon Treaty came into force amid concerns at such low-profile leaders for Europe.
Detractors have voiced doubts over whether Van Rompuy and foreign policy chief Catherine Ashton, a British peer and formerly EU trade commissioner, were the dream ticket to lead Europe and stand shoulder to shoulder with the likes of the United States and China.
But speaking at a ceremony in the Portuguese capital, the former Belgian prime minister promised a new era for the 27-member bloc.
"We are leading today a new phase in the construction of Europe," he said.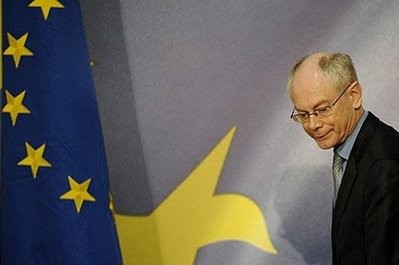 New European Union president Herman Van Rompuy attends a press conference in Milan's prefecture.
"The Treaty of Lisbon, after a difficult journey, has reached its port. The Treaty of Lisbon will allow us to make decisions more swiftly, (but) it can only play its role if the union is really a union."
Swedish Prime Minister Fredrik Reinfeldt, whose nation holds the office of the rotating EU presidency until the end of the year, insisted that the bloc had emerged stronger from the often painful reform process.
"Let us make this first of December the first day of a new beginning. It was not an easy journey, but the voice of Europe will be stronger in the world," he vowed.
Van Rompuy, who spent his first day in office on a tour of European cities, has made a low-key entrance into his new job.
Speaking in Slovenia, one of three stops on Tuesday, he said his "key words will be continuity and coherence."
Later in Milan he promised to "listen carefully" and "take into account the interests and sensitivities of everyone."
He will certainly do more listening than orating until the new year: he told journalists in Ljubljana that he would not make any political statements until 2010.
However, the softly-softly approach has not prevented him from declaring himself a "European federalist," while assuring he is "not a fundamentalist," a comment bound to send shivers down eurosceptic spines.
Europe's first president will be "more of a 'chairman president' than a leader president'," said Thierry Chopin of the Robert Schuman Foundation think tank.
Indeed it may suit some of the bigger EU member states not to have a political heavyweight presiding over them.
The Lisbon Treaty, drawn up to replace the aborted EU constitution, is designed to boost the bloc's global standing and streamline the institutions which represent half a billion people.
"The Treaty of Lisbon puts citizens at the centre of the European project," European Commission President Jose Manuel Barroso said in a statement.
Now "we can focus all our energy on delivering what matters to our citizens," he added, in reference to the years of institutional navel-gazing which ended with the treaty coming into effect.
The treaty will also reinforce the EU parliament's role and cut the number of national vetoes on European policy.
But most attention is on the two new top jobs, the immediate and visible effects of the treaty which came into being at midnight (2300 GMT Monday).
The 27 EU heads of state and government chose Van Rompuy for the top job at a summit last month, after rejecting a British bid to have ex-premier Tony Blair installed.
His post, the President of the European Council, is for a two-and-a-half year term renewable once.
Ashton will be a quasi foreign minister for Europe, with a larger role than her predecessor Javier Solana and a vast new diplomatic corps -- a major task for someone with no foreign policy experience and who has never been elected to office.
"As respectable and nice as she might be, she doesn't seem to match the ideal profile of a European foreign minister," the Schuman Foundation report opined.
"She doesn't know the diplomatic issues and has never held a major ministerial position at home. In truth, she appears to have been appointed by default," it added.
Ashton's first real task could be a baptism of fire at a preliminary hearing in front of the European parliament on Wednesday, where some Euro MPs plan tough questioning.