European leaders, bidding to increase pressure for a worldwide climate deal in Copenhagen, battled through the night to hammer down Friday a six-billion-euro aid package for poorer nations.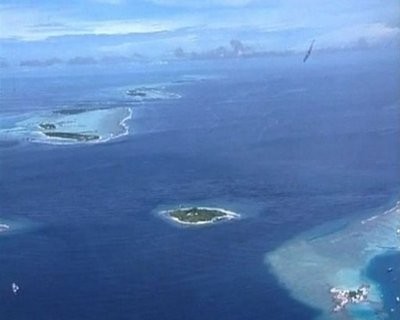 As global climate talks continue in Copenhagen, the Maldives, one of the lowest lying country in the world, is slowly disappearing under rising sea levels. For this Indian Ocean island nation, climate change is already a grim reality. (AFP Photo)
The first day of a two-day European summit in Brussels broke up late Thursday still short of its goal, but officials were confident that more money could be squeezed out of the 27 assembled heads of state and government.
"The figures will be better tomorrow morning than they are tonight," said Swedish Prime Minister Fredrik Reinfeldt, whose country holds the EU's rotating presidency until the end of the year.
Officials were working through the night to find two billion euros (three billion dollars) per year in so-called fast-start monies between 2010 and 2012.
More medium and long term funding will follow later. EU nations have already proposed that 100 billion euros be made available to poorer nations annually by 2020 to tackle rising sea levels, deforestation, desertification and other problems associated with climate change.
The largest announced contributions came from Britain (884 million euros) and Sweden itself (765 million euros) with smaller amounts promised by the Netherlands, Spain, Belgium, the Czech Republic and others.
France and Germany, however, were among those resisting calls to reveal the day's final tally.
A testy debate between rich and poor countries over who will pick up the tab for emission curbs has become one of the key hurdles on the path to a deal that would replace the Kyoto Protocol.Related article: Battle of the texts
Those divisions have been compounded by a leaked draft agreement, derided by developing nations that say it favours the more advanced economies.
Across the Atlantic US lawmakers continued their vexed hunt to cobble together significant emissions cuts that would pass a Congress replete with climate skeptics.
President Barack Obama failed to push climate legislation through Congress in advance of the Copenhagen summit, but on Thursday a bipartisan group of senators proposed what they hoped would be the basis of a compromise.
The framework says the world's largest economy would cut carbon emissions by 17 percent by 2020 from 2005 levels, less ambitious than an earlier Senate bill but in line with Obama's proposals and a bill that squeaked through the House of Representatives in June.
In day four of the Copenhagen talks, blocs of countries pitched competing visions for a deal as the early arrival of environment ministers stoked pressure for an outcome.
Rival papers tabled by African countries, small island states, emerging giant economies and conference chair Denmark jockeyed for a place in a draft compromise.
They set down varying targets on curbing greenhouse gases that fuel global warming and funding for poor countries so that they can meet this potentially mortal threat.
The next step will be to hammer these texts into a workable blueprint for haggling next week.
Heated negotiations continued late Thursday, as France clashed with other EU nations over how to calculate carbon emissions absorbed and emitted by forests, a key component of a climate deal.
Divisions were also clear among poorer nations, with a row that has delayed work in key negotiation pools rumbling on.
Tuvalu -- population 10,000 -- pressed a demand that the conference discuss its idea that emerging giant economies be tied to binding emissions cuts under a new round of pledges under the Kyoto Protocol.Related article: Tuvalu PM speech
The proposal drives at the heart of a nearly two-decade-old axiom that only rich nations, and not poor ones, should commit to binding curbs on fossil-fuel pollution.
Underpinning Tuvalu's demand is that island states, and other highly vulnerable nations, could be devastated by warming inflicted by uncontrolled emissions from China, India and Brazil.
"For some countries we are talking about a total sinking," said Solomon Islands envoy Collin Beck, vice chairman of the 42-member Association of Small Island States (AOSIS)
Friction was also visible between China and the United States, the world's top two polluters, whose positions are central to any climate deal.
China said countries like the United States must pay out billions of dollars in compensation to poorer countries. A US official said China would not be at the top of any US list of countries receiving support.
But UN climate chief Yvo de Boer said the mood had improved since the start and that progress is being made.