STRASBOURG, April 20, 2010 (AFP) - The European Union's top transport official rejected Tuesday growing criticism that the EU failed to adequately address the air traffic chaos caused by the volcano eruption in Iceland.
Hitting out at what he called "deliberate attempts to confuse things", notably in countries where elections are due, EU Transport Commissioner Siim Kallas insisted that flight restrictions were not imposed from Brussels.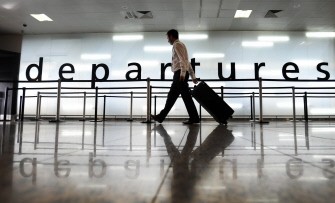 Passengers arrive at Glasgow airport as Scottish airspace re-opened on April 20, 2010. AFP photo
"After the volcano eruption all decisions were made based on existing agreed models on how to handle those things," he told members of the European parliament in Strasbourg.
"Aerospace is national competence, not the commission giving orders," he said. "The rules governing are national."
"To say that the European model completely failed is totally wrong," he went on. The eruption in Iceland "is an extraordinary event".
He conceded however that the current model could be re-examined, and said that EU transport ministers, in an extraordinary meeting via video-conference on Monday, had begun to do so.
Many European nations began opening airports again Tuesday -- some closed completely since April 15 -- following chaos that has hit some seven million passengers and cost airlines millions of euros.