BRUSSELS, May 23, 2011 (AFP) - The European Union on Monday sanctioned President Bashar al-Assad, slapping an assets freeze and travel ban on the Syrian leader in response to continuing repression against protesters, diplomats said.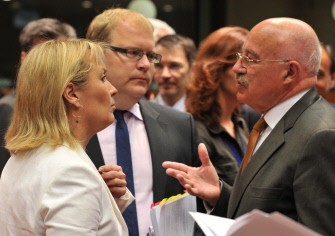 AFP - Danish Foreign Minister Lene Esperen (L), Estonian Foreign Minister Urmas Paet (C) and Hungarian Foreign Minister Janos Martonyi chat on May 23, 2011 before the start of a Foreign Affairs Council meeting at EU headquarters in Brussels.
Foreign ministers from the 27-state bloc agreed to add the president, along with several leading officials, to a list of Syrian officials already targeted by a travel ban and assets freeze due to their involvement in brutal crackdowns against protesters.
"The repression in Syria continues," said British Foreign Secretary William Hague as he went into talks with his counterparts.
"It is important to see the right to peaceful protest, the release of political prisoners and taking the path of reform not repression in Syria over the coming days."