European leaders launched plans Saturday to create a new crisis fund aimed at all troubled euro countries, as the Greek debt chaos put the eurozone into a "state of emergency."
The 16 heads of the countries that share the euro currency said they want to build an emergency fund for countries targeted by powerful bond markets, after the region's debt mountain sent global bourses tumbling and triggered alarm from the US to Asia.
"Between now and Sunday night we will have a watertight line of defence in the eurozone," declared euro finance chief Jean-Claude Juncker.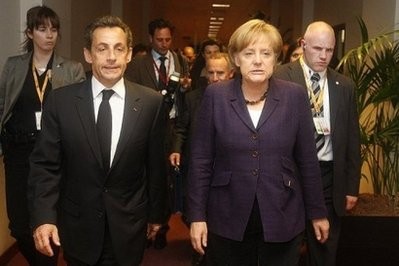 French President Nicolas Sarkozy (L) walks with German Chancellor Angela Merkel prior to an extraordinary European Union summit at the European Council headquarters in Brussels.
The leaders, meeting in Brussels, also agreed to impose new curbs on speculators blamed for sustained and deliberate attacks.
German Chancellor Angela Merkel said that the "stabilisation" fund would send "a very clear signal" to market speculators to back off.
A decision to "accelerate" public deficit reduction plans and "reinforce" rules limiting room for maneouvre on broken budgets came after they concluded a much-vaunted deal to loan debt-addled Greece 80 billion euros (just over 100 billion dollars) over three years.
A meeting of all 27 European Union finance ministers, tasked with setting up the fund worth scores of billions of euros, was hastily arranged for Sunday in Brussels to deal with what French President Nicolas Sarkozy called a "systemic crisis."
"We are now at the stage of community mechanism, it is the whole eurozone that needs to defend itself," through "general moblisation," the French leader said.
"There is no doubt that the eurozone is going through the most serious crisis since its creation," he underlined.
The leaders acknowledged, during their late-night crisis summit at the EU headquarters in Brussels, that the scale of the problem had gone way beyond Greece.
Italian premier Silvio Berlusconi told his peers that the 11-year-old shared currency area was in a "state of emergency" and exceptional measures were required.
What began as concern over fraudulent financial reporting in Athens, and escalated to deadly riots in Athens against austerity measures, has now turned potentially into a stand-off between euro nations and markets that have been resolutely unimpressed by EU action to date.
Greek premier George Papandreou said the talks "re-confirmed that the need to safeguard the eurozone goes beyond Greece's problems."
Papandreou also said the transfer billions of euros of crisis loans was imminent.
"In the following days, Greece will receive the first tranche of the 110 billion euros from the EU and the IMF," Papandreou said. "This will allow us to implement our (austerity) programme and our reforms."
Saturday's sweeping decisions came after the United States, Japan and Canada relayed their growing concerns, via the G7 forum, to France, Germany, Italy and non-eurozone Britain, which is itself heavily indebted.
US President Barack Obama himself spoke with German Chancellor Merkel, and called for a "strong policy response" extending to the wider "international community."
Sources stressed that talks on an idea for the European Commission to pour up to 70 billion euros into a reserve pool would require the European Central Bank's agreement, given its politically independent status.
ECB chief Jean-Claude Trichet said the summit's outcome was "excellent," but underlined: "I don't want to make any comment, this mechanism is the responsibility of the EU council (of leaders) and of the European Commission."
Currently 13 of the 16 currency partners are under excessive deficit surveillance, having breached set guidelines.
Parliamentary and legal maneouvres needed to sign off on an unprecedented 110-billion-euro (145-billion-dollar) bailout for debt-laden Greece, backed by the IMF, were largely completed in advance of the talks in Brussels.
However, Australian Prime Minister Kevin Rudd said markets had already judged Greek bailout action "inadequate" after stocks plummeted in Asia and on Wall Street, the euro plumbed a 14-month low against the dollar and Japan said it would need to plough more than 20 billion dollars into shaken Asian financial markets.