LONDON, June 17, 2011 (AFP) - The European single currency fell further against the dollar on Friday, ahead of a Franco-German summit and amid worries over a new bailout programme for debt-ridden Greece, dealers said.
In early morning trading, the euro slid to $1.4189, down from $1.4209 late in New York on Thursday.
Against the Japanese unit, the dollar eased to 80.42 yen from 80.67 yen on Thursday.
President Nicolas Sarkozy and Chancellor Angela Merkel met in Berlin to seek to bridge critical differences on a new rescue package for debt-ridden eurozone member Greece.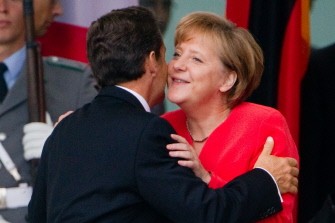 German Chancellor Angela Merkel welcomes French President Nicolas Sarkozy in front of the Chancellery in Berlin on June 17, 2011.
"The news flow regarding Greece is likely to dominate the foreign exchange markets once again today as no important data is due for publication," said Commerzbank analyst Lutz Karpowitz in a note to clients.
"Merkel and Sarkozy are meeting in Berlin at noon. A rapprochement would support the euro -- but is far from certain."
Even if temporary measures are taken to keep Greece afloat in the coming days, market participants are increasingly sceptical about Greece's outlook, said Teppei Ino, senior analyst at Bank of Tokyo-Mitsubishi UFJ.
"That country is obviously going to default under the current circumstances," he told Dow Jones Newswires.
Market watchers were unimpressed with comments from European Union Economic Commissioner Olli Rehn on Thursday that a decision on a second bailout for Greece was expected to be delayed until mid-July.
"Playing for time is not favourable when market concerns are intensifying," said Hideki Hayashi, global economist at Mizuho Securites. "This could lead to selling of the euro."
In Athens, Greek Prime Minister George Papandreou on Friday axed his finance minister, naming a former foe to implement deeply unpopular austerity measures and ward off economic meltdown.
Outgoing defence minister Evangelos Venizelos, a tough-talking party veteran who had challenged Papandreou for the party leadership in 2007, was promoted to the critical post and also named deputy prime minister.
Papandreou appealed for unity from his own lawmakers Thursday after two deputies quit and the International Monetary Fund (IMF) insisted there can be no backsliding on agreed austerity measures.
Officials say they are confident eurozone finance ministers will agree at meetings Sunday and Monday on the disbursement of the latest slice of Greece's 110-billion-euro bailout loan.
In London on Friday, the euro changed hands at $1.4189 against $1.4209 late in New York on Thursday, at 114.11 yen (114.61), £0.8792 (0.8794) and 1.2027 Swiss francs (1.2060).
The dollar stood at 80.42 yen (80.67) and 0.8477 Swiss francs (0.8482).
The pound was at $1.6136 (1.6157).
On the London Bullion Market, gold prices rose to $1,524.80 an ounce from $1,523.25 late on Thursday.