World leaders are close to agreeing tough new rules on limiting bankers' bonuses at the G20 summit in Pittsburgh despite earlier differences, officials said Thursday.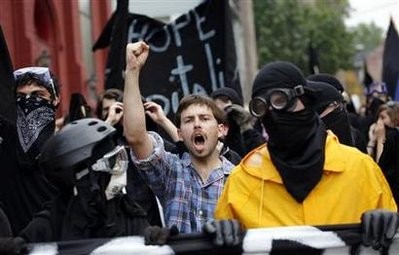 Demonstrators march during a protest before the start of the G20 Pittsburgh Summit in Pittsburgh, Pennsylvania September 24, 2009.
In the run-up to the summit there was friction between Washington and some European capitals, with France and Germany in particular pushing for stricter caps on pay-outs that they say encourage traders to take excessive risks.
But as the leaders of the Group of 20, the main economic policy forum for the world's top developed and emerging economies, enjoyed the opening dinner of the two day meeting, officials said the sides were close to a deal.
"We actually are very close and I believe we are in the same place," US Treasury Secretary Timothy Geithner told reporters. "We want to have very strong standards to limit the risk."
Prime Minister Fredrik Reinfeldt of Sweden, who holds the rotating presidency of the European Union, took a similar line.
"When it comes to financial market regulation, we are very worried that the banks seem to be returning to the pre-crisis compensation policies, and the banks seem to think it's time to go back to business as usual," he said.
"The idea that banks should be able to keep profits for themselves but give losses to taxpayers will not be accepted," he warned.
"I expect the G20 will make a clear statement about the need for global rules on bonuses and compensation, and I also expect broad agreement on how to strengthen supervision in general."
Ahead of the summit, French and German officials had insisted on the importance of restricting bonuses -- despite US and British worries about the competitiveness of their banks.
Germany's Chancellor Angela Merkel met with France's President Nicolas Sarkozy before both of them went on to the leaders' dinner hosted by US President Barack Obama.
Following the pair's 30-minute meeting, a German official said: "They have coordinated their positions seamlessly. The central issue for Merkel and Sarkozy is the regulation of the financial markets.
"On this issue there is complete consensus," he said.
Last week, European leaders agreed not to push immediately for the fixed caps that some of them wanted on bonuses -- an idea rejected in London and Washington -- but agreed on measures to link pay to long-term performance.
Australia's finance minister, Treasurer Wayne Swan, said he expected a report to the G20 on executive bonuses to include tough rules.
"I think there is going to be a rigorous framework outline, which is important because some of the packages have encouraged very risky behavior which goes to the core of some of the issues in the financial system," he said.
Prime Minister Kevin Rudd said the issue -- said to be a point of discord between the United States and Europeans -- was also critical for Australia.
"The remuneration structures and how they're calibrated in various markets around the world have a profound impact on Australia," Rudd told a joint news conference with Swan after addressing students at Carnegie Mellon University.
"With large banks operating globally, if you do not have a proper calibration of risk and reward, then if those decisions are being regulated outside Australia and using a set of standards vastly different from what we would accept in Australia, then we have a problem."
The G20 leaders, representing the world's 19 largest developed and emerging economies plus the European Union, met for dinner on Thursday and will hold a full day of talks Friday on ways to safeguard the tentative economic recovery.