BERLIN, Jan 11, 2010 (AFP) - The Arctic freeze gripping Europe left hundreds of people stuck in vehicles in deep snow or stranded at airports with scores of flights cancelled and power cuts to thousands of homes on Sunday.
The treacherous conditions cut off villages in northern Germany and on the Baltic islands, and disrupted rail traffic with Eurostar still only able to run two out of three trains under the Channel.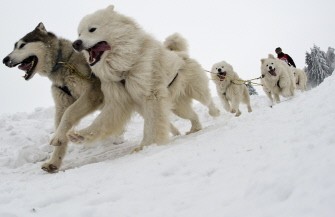 Hartwig Rackwitz and his dogs race in a sledge dog competition near the eastern German town of Hasselfelde on January 10, 2010, as the region is completely covered with snow. AFP PHOTO
The weather, blamed on a low pressure system that forecasters labelled "Daisy", unleashed blizzards in north Germany that left motorways, secondary roads and railways impassable at certain points.
Hundreds found themselves stuck in their cars and lorries in snow, or in trains overnight on Saturday, authorities said.
"Daisy" dumped even more snow on Germany during Sunday, particularly in the northeast, and forecasters warned of more to come overnight and all day Monday, with heavy snow showers expected to spread southwards.
School was cancelled for Monday in Mecklenburg-Western Pomerania state, while snowsdrifts up to two metres (six feet) high meant many villages were "left to their own devices", police said.
All of Germany was blanketed with snow, whipped up in some places by strong winds. Leipzig in the east shivered under 29 centimetres (11 inches) of snow, Berlin had 27 centimetres and Hamburg in the northwest 12 centimetres.
Dozens of villages in rural Schleswig-Holstein state and on the Baltic Sea islands were completely cut off, while more than 1,000 car accidents have been reported across Germany in recent days, several of them fatal.
Air travel was hit as well, with nearly 100 flights cancelled Sunday at Frankfurt airport, Europe's third busiest, after 255 flights were scrapped on Saturday, a spokesman told AFP.
The snowfall which has blanketed Britain for a week eased on Sunday, but the freezing conditions continued to cause extensive disruption to air travel.
More than 80 flights were cancelled at London's Heathrow airport on Sunday, while low-cost airline Easyjet scrapped almost 100 flights.
Eurostar said that it would continue to operate on a reduced timetable Monday, and urged passengers to postpone their trip to a later date if possible.
The army helped to deliver much-needed supplies of food to rural areas in Kent in southeast England. Snow had cut off many remote areas.
At least 26 people have died from the frigid weather, according to British media.
Health and safety concerns about access to stadiums wiped out all but two of the weekend's English Premier League football matches, and the Serpentine swimming lake in London's Hyde Park was closed for the first time in 140 years.
Temperatures were expected to edge above freezing as the week wears on, forecasters said.
The unusually harsh conditions were caused as relatively warm humid air from the Mediterranean met cold air from the north and east, meteorologist Michel Daloz from Meteo France said.
In France, fresh snow and freezing rain made for another day of disruption, with 800 people including 500 British tourists on their way to a skiing break in the French Alps forced to spend Saturday night at Lyon airport.
Around 3,000 homes in southeastern France were without power for a second day Sunday, while icy conditions caused numerous accidents on roads around Paris, prompting the closure of motorway sections and a ban on lorries.
Later in the day, however, conditions had improved enough for French road authorities to lift a "status orange" state of alert across much of the country.
In Poland, around 80,000 households were left without power after tree branches weighed down by snow fell on electricity cables, while freezing rain caused major problems on busy rail links between Warsaw and Krakow.
In the northeast of the Czech Republic, heavy snow forced traffic on the rail line into neighbouring Slovakia to be suspended for six hours, while in the southeast, power outages left thousands in the dark.
In the Balkans, heavy rain and melting snow meanwhile led to flooding in parts of Croatia and Bosnia, with an emergency declared in the central Croatian district of Lika and 100 homes evacuated.
Several European countries sent rescue teams to Albania after 10,000 hectares (24,700 acres) of land were flooded in the north, affecting 2,500 homes, officials said. No deaths were reported.