Ireland faces financial crisis talks with a delegation from the European Commission, the European Central Bank and the International Monetary Fund on Thursday, as markets await news of a bailout.
Ireland's leaders had still not committed to accepting an aid package, despite international pressure, because of concerns about how the attached conditions might affect domestic issues such as its policy on tax levels.
But for the EU's Belgian presidency, it was a matter of when Ireland would give way, rather than if.
"Now we have the answer -- we are just waiting for the question," said Belgian Finance Minister Didier Reynders, chairing Wednesday's talks among all 27 European Union governments.
Dublin has so far resisted going further than allowing experts from the European Commission, the European Central Bank and the International Monetary Fund into the country to look at how best to fix the banking system.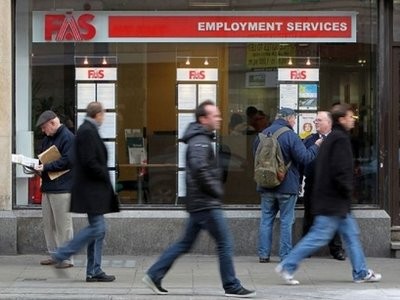 An employment services office in Dublin, Ireland.
The IMF said a "short and focused consultation" would "determine the best way to provide any necessary support to address market risks."
Irish Prime Minister Brian Cowen said he would take no decision on possible aid until after Thursday's talks.
"We have still not applied for a facility. We haven't started any negotiations," he said in a live interview on RTE state television late Wednesday.
"There is no solution yet formulated for us. We have not decided we are putting forward a proposal because we need to decide what the best option is and that is what these discussions are about," he said.
"It is urgent. We accept it is urgent and we need to deal with it but we will deal with it in our own interests as well."
There was widespread dismay in Ireland at the prospect that any aid might come at the cost of surrendering key policies.
Austria on Wednesday raised the sensitive question of whether Ireland should be required to increase its low corporate tax, which at 12.5 percent, has long been seen by competitors as an unfair investment incentive.
Ireland's Finance Minister Brian Lenihan however insisted that the competitive tax rate was a "cornerstone" of government policy and "will remain so."
Ireland's low-tax regime was a major factor in driving the Celtic Tiger economy before the devastating crash. Dublin believes it cannot be tampered with if it is eventually to recover from the crash.
But Ireland is having to face up to the consequences of its extended banking sector bailout, which has pushed the public deficit to some 32 percent of output this year -- more than 10 times the EU limit.
It also knows that Greece had to accept stringent conditions in return for the 110-billion-euro (148-billion-dollar) bailout agreed in May.
Over the border meanwhile, Britain was keen to help Ireland so as to protect its own interests.
Finance minister George Osborne said Britain was looking at "different avenues" to help Ireland, where British banks, included bailed-out Royal Bank of Scotland, have major exposure.
London is not part of the 16-nation eurozone but is a major contributor, at 7.8 billion euros, to a 60-billion-euro facility put in place at the EU's executive commission to help struggling countries.
Experts say Dublin could need about 70 billion euros to steady its banking system whose needs have put such a strain on the public finances.
European Economic Affairs Commissioner Olli Rehn said things were "very pressing and very, very serious and we don't have any time to waste."
The Irish government faces the added domestic pressure of its a slim parliamentary majority and an opposition pushing for a snap general election so as to give the country a fresh start.
Washington meanwhile expressed its confidence in Europe's ability to resolve the crisis.
"We continue to believe, as we did with Greece, that Europe has the ability to deal with the crisis in Ireland, and possibly in other countries," said White House spokesman Robert Gibbs.
Europe is anxious to show it has learned the lessons from Greece, which spent months pressing Brussels for help which it got only when the markets turned decisively against it.
EU officials want to be seen to be taking the crisis in hand, arranging help for Ireland now so as to prevent any contagion effect which could put other weaker eurozone states such as Portugal at risk.