EU leaders on Thursday picked little known Belgian prime minister Herman Van Rompuy as Europe's first president with a mission to give the continent a greater world profile.
Catherine Ashton of Britain became the European Union's foreign policy supremo in the new team after Britain dropped its campaign for former prime minister Tony Blair so that Van Rompuy got unanimous approval at a special leader's summit called to make the appointments.
US President Barack Obama welcomed the appointment of an EU president saying it would make Europe an "even stronger partner" to the United States.
"This is the new leadership team of Europe," said Swedish Prime Minister Fredrik Reinfeld, flanked by Van Rompuy and Ashton, speaking after the dinner summit.
"The idea is to have a leader of the (EU) council... who actually gives room for everyone, who listens to everyone, who creates winners not losers," Reinfeldt said. "We have achieved that." The EU's two new top jobs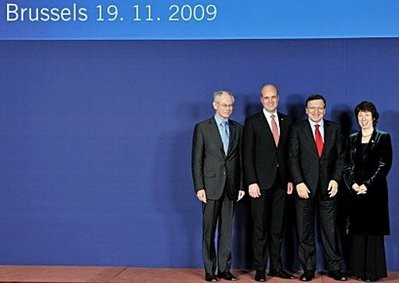 Belgian Prime Minister Herman Van Rompuy, named the European Union's first president (1 st , L).
The posts were created under the EU's Lisbon treaty which reforms decision-making in a bid to give the 27-nation bloc more credibility in dealing with the likes of the United States and China.
Van Rompuy said he regretted giving up the Belgian premiership, but accepted the challenge of managing member states frequently at odds over competing national agendas.
"Even if it is particularly difficult to abandon the leadership of my country, I accept your decision and I thank you for the honour you have given me," said Van Rompuy, who takes up the post on January 1.
He said he would be a president "with conviction."
But the nominations prompted accusations that the EU leaders had chosen lightweight representatives for the heavyweight bouts that lie ahead on issues as varied as the economy, climate change, nuclear power and the war in Afghanistan.
Jose Manuel Barroso, president of the European Commission, the EU administrative arm, rejected the suggestions at a post-summit press conference.
"It is so important that Britain remains at the heart of the European project and Cathy Ashton brings the global visions that Britain has," he said. "She is our foreign minister."
Ashton, who only became the EU trade commissioner in 2008 but has swiftly earned a reputation as an effective negotiator, said: "Judge me on what I do and I think you will be pleased and proud of me."
Swedish Foreign Minister Carl Bildt, whose country holds the EU's rotating presidency, had expressed fears before the summit of a weak appointments being made. No obstacle too tough for new EU foreign chief
"This could mean -- from our point of view -- missing a historic occasion," Bildt wrote on his Internet blog.
The Lisbon treaty was aimed at speeding up decision-making and improving the EU's image abroad -- but ratification became a dragged out affair thanks to referendums and opt-outs.
Sensing opinion was against Blair -- an extremely high-profile candidate whose key role in the 2003 invasion of Iraq divided Europe -- British Prime Minister Gordon Brown changed tack.
He said Ashton's job was the real prize after the scope of the top job was changed, but praised Van Rompuy's "great qualities as a diplomat and negotiator, and a man of integrity."
Van Rompuy, 62, was the favourite going in to the dinner, as the leaders looked for a president who would work behind the scenes to build consensus. Belgium's Haiku-composing leader set for EU presidency
Leaders also handed a third new post, that of European Council secretary general, to French diplomat Pierre de Boissieu, through until 2011.