Europe pledged Thursday to fix a new bailout for Greece by early July, provided Athens rallies parliamentary support for sweeping new cuts amid mounting global pressure to shield the euro on markets.
As negotiators for the EU and the IMF struck agreement with the Greek government on implementing 28 billion euros of cuts and bringing in tens of billions from the sale of state holdings, Athens formally requested financial aid during a two-day summit in Brussels.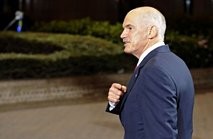 Greek Prime Minister George Papandreou leaves at the end of the first day of a summit of the EU heads
Greek lawmakers must pass the new austerity plan before June is out, the European Union said, allowing eurozone finance ministers "to complete work on outstanding elements to allow the necessary decisions to be taken by early July."
With the bloc under US pressure to avert financial market contagion from the euro debt crisis, Greek Prime Minister George Papandreou said on leaving the summit for the night: "We've got the support of our partners and I think this is not only a green light but also a positive sign for the future of Greece."