BRUSSELS, Jan 31, 2011 (AFP) - Europe demands reform in Egypt and moves to open a new chapter in ties with Tunisia on Monday as it responds to pressure to speak up on the turmoil in its Arab backyard.
With Egypt its second largest neighbour after Russia, EU foreign ministers stepped into talks urging President Hosni Mubarak to embark on change but stopped well short of demanding he leave.
"We cannot export revolution," said Luxembourg Foreign Minister Jean Asselborn. "I'm certain the European Union today will signal to people of good will in Egypt and Tunisia that we're ready to help organise elections, but not to interfere."

The ministers are expected to agree to freeze the assets of ejected Tunisian leader Zine El Abidine Ben Ali and his associates.
On Tuesday, Brussels hosts the North African nation's new foreign minister on what may be his maiden overseas trip, to discuss how best to help Tunisia's new pro-democracy regime.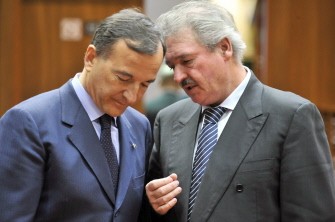 Italian Foreign Minister Franco Frattini (L) and Luxembourgian Foreign Minister Jean Asselborn talk before a General Affairs Council meeting on January 31, 2011 at EU headquarters in Brussels. AFP
EU offers of a helping hand come in the wake of loud criticism, however, with the bloc slammed both for failing to see -- or not wanting to see -- the writing on the wall, and for doing too little too late.
"The EU has been dithering to respond to events in its neighbours," said Rosa Balfour of the European Policy Centre think-tank, "despite this being indicated as its priority foreign policy area."
Because of misguided belief that "status quo equals stability," Tunisia's repressive regime was one of the least criticised by the EU, while its economic performance won it promises of special "status" trade ties with the bloc.
When the uprising sent Ben Ali packing, the EU was caught napping as a US envoy hit the ground running to offer Washington's help in the turbulence, days before Brussels sent in its own man.
At the Tuesday talks, the 27-nation union's foreign affairs chief Catherine Ashton is expected to offer assistance in organising elections in Tunisia and to speed up talks to agree on that special "status."
Challenged over the EU's slow response to the brewing revolt in Tunisia that kicked off mid-December, the ministers meet facing the need for a united response to the turmoil both sweeping Egypt and looming over the region.
"Since the events in Tunisia, I am following with great attention the developments in the region," EU president Herman Van Rompuy said this weekend.
Italy's Foreign Minister Franco Frattini would eventually like the EU to send a high-level delegation to all countries across the Mediterranean facing "disorders."
"A mission to hear, to encourage, not to dictate," he said.
"We have challenges in our entire neighbourhood, from Minsk to Tirana to Cairo, to Tunis," said Swedish Foreign Minister Carl Bildt.
"And it is the EU that is the actor that can have a possibility to bring the rule of the law and stability to this area, no one else," he said.
Analysts insist the events underscore the need for the EU to radically change its diplomacy in the south Mediterranean.
"It is time to put an end to the pervasive fear of democracy in North Africa that exists in Europe," said Alvaro de Vasconcelos, director of the EU Institute for Security Studies.
"There must be a break from the stagnant mindset whereby authoritarian, so-called 'secular' regimes -- however corrupt and oppressive -- are seen as a bulwark against the radical Islamists," he said.
Europe, he added, should stop thinking solely of economic cooperatioon with nations on its southern flank and put the emphasis instead on political reform.
"Brussels' assurances that problems regarding political freedom can be addressed behind closed doors are simply insufficient," said Balfour.
"There is much that can be done to improve the EU's support of democratic change in its neighbourhood."