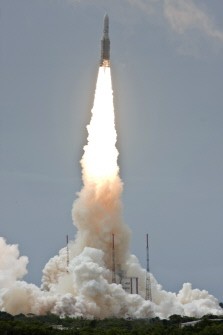 This picture, taken on July 1, 2009 in Kourou, shows Europe's Spaceport Ariane 5 ECA being launched into the sky with the TerreStar-1 telecommunications satellite aboard (AFP photo)
KOUROU, French Guiana, July 2, 2009 (AFP) - A European rocket on Wednesday placed the world's biggest commercial telecommunications satellite into geostationary orbit, launch operator Arianespace said.
The 6.9-tonne TerreStar-1, operated by US telecoms services firm TerreStar Networks Inc., was launched by Ariane-5 heavy rocket from the European space base in Kourou, French Guiana, after four delays caused by stormy weather.
It is the 189th launch since the European Space Agency (ESA) introduced Ariane in 1979.
Arianespace chief executive Jean-Yves Le Gall also told reporters the company's first launch from Kourou using a Soyuz rocket would probably take place "in the first week" of 2010.
The firm is to use the Soviet-era workhorse under a commercial arrangement with Russia so that it can launch medium-sized payloads.
The version will be a Soyuz 2, able to take three tonnes into geostationary orbit, compared to 1.7 tonnes that can be launched from Baikonur, the main Russian space base.
Arianespace is also bringing in a new rocket, Vega, for light payloads of up to 1.5 tonnes.
The first launches by these rockets had been pencilled for the end of the year.
The Soyuz project has been delayed by the addition of a Russian-made mobile gantry, while Vega has been delayed by testing of some of its sub-systems.