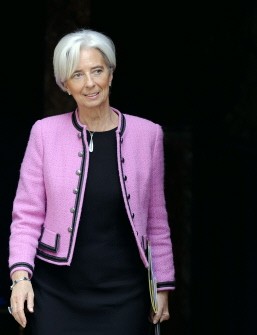 AFP - A file picture taken on May 6, 2010 shows France's Economy Minister Christine Lagarde
DEAUVILLE, France, May 27, 2011 (AFP) - EU capitals now consider that French Finance Minister Christian Lagarde's appointment as the next head of the IMF is a done deal, after US Secretary of State Hillary Clinton hailed the candidacy, a European official told AFP at the G8 sumnmit.
"Lagarde? It's done," the senior source told AFP, speaking on condition of anonymity as the decision depends on the IMF and not on EU or G8 leaders.
Europe has traditionally provided the managing director of the International Monetary Fund, and the major EU governments have rallied around Lagarde's bid for the job following the arrest of the former chief Dominique Strauss-Kahn on sex assault charges.
On Thursday, Clinton said that although the United States has not adopted an official position, she personally welcomed Lagarde's candidacy.
"I am a strong supporter of qualified women, which she is certainly one, being given the opportunity to lead international organisations," she said, referring to Lagarde. "I actually know her. I admire her."
While Washington has also said Agustin Carstens, the governor of Mexico's central bank, is a "credible candidate", the EU official said diplomats at the G8 summit in Deauville had interpreted Clinton's remarks as a Lagarde victory.