BERLIN, Sept 14, 2011 (AFP) - Markets on Tuesday welcomed news that Germany, France and debt-mired Greece would hold fresh talks on the euro crisis after US President Barack Obama called for greater European efforts.
German Chancellor Angela Merkel, French President Nicolas Sarkozy and Greek Prime Minister George Papandreou will discuss Athens's debt emergency at a teleconference scheduled for 1600 GMT.
"The teleconference was decided in view of the upcoming EU meeting in Poland," a Greek official told AFP, referring to informal talks between EU finance ministers and central bankers in Wroclaw on Friday and Saturday.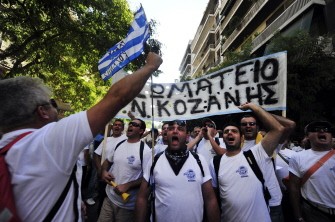 AFP - Greek taxi drivers hold a banner reading "Union of Kozani" as they chant slogans during a demonstration in central Athens on September 13, 2011.
Papandreou has also called a meeting with his cabinet three hours ahead of those talks, a statement from his office added.
On Tuesday, he held talks with Finance Minister Evangelos Venizelos and other senior officials, the ANA news agency reported.
Earlier, Merkel sought to soothe traders' fears over Greece, saying everything would be done to avoid an "uncontrolled insolvency" and stressing that the eurozone would remain intact.
But her efforts to reduce market volatility were undermined by rumours -- later denied -- that Berlin and Paris were about to issue new proposals on Greece.
Merkel's comments followed a stern warning from Obama that the global economy was unlikely to recover until the eurozone debt crisis was contained.
In a roundtable interview with journalists, Obama said: "We will continue to see weaknesses in the world economy, I think, so long as this issue is not resolved."
The US president added that it would be a "significant topic" for the next G20 meeting in France.
While Washington was "deeply engaged" with EU countries in tackling the crisis, ultimately it was up to Europe to solve it, he said.
"Greece is obviously the biggest immediate problem. And they're taking some steps to slow the crisis but not solve the crisis," Obama said.
"The bigger problem is what happens in Spain and Italy if the markets keep making a run at those very big countries," he said.
The Polish EU presidency confirmed that US Treasury Secretary Timothy Geithner would attend Friday's meeting of EU finance ministers and central bankers.
"Participants of the meeting will focus on common EU and global efforts to counteract the current disruption in financial markets in order to return to the path of stable economic growth," the Polish EU presidency said.
Brazilian Finance Minister Guido Mantega meanwhile said the emerging economies of Brazil, Russia, India, China and South Africa, which constitute the BRICS group, would discuss possible aid to Europe to ease the crisis.
Mantega said he and his counterparts would discuss the issue in Washington on September 22. They will be in the US capital next week for the annual meetings of the International Monetary Fund and World Bank.
Earlier Tuesday, the euro dropped against the dollar and European stock markets fell as concerns over Greece weighed on the market again and it became clear that Italy wasn't in talks with China about buying bonds.
But US stocks posted healthy gains after a volatile day of trading driven by the twists and turns of Europe's sovereign debt crisis.
The Dow Jones Industrial Average rose 44.73 points (0.40 percent) to close at 11,105.85.
As if to confirm Obama's concerns about Italy, Rome was only able to place 3.865 billion euros ($5.256 billion) in five-year bonds at a new high of 5.6 percent.
While Italy confirmed reports that Finance Minister Giulio Tremonti had met the head of China's biggest sovereign wealth fund CIC last week, officials said he had not asked Beijing to step in and purchase its bonds.
Many analysts are concerned that Italy could be the next eurozone domino to fall, with enormous debt which stands at 120 percent of gross domestic product.
Battling to prevent a debt crisis that has already claimed Greece, Portugal and Ireland, Silvio Berlusconi's government hopes deputies will on Wednesday pass an austerity package to balance the books by 2013.
But in an interview with Germany's RBB radio station, Merkel said the top priority for policymakers now was to avoid a chaotic default for Greece as this would have serious consequences for the rest of the 17-nation zone.
She also stressed that the eurozone had to remain intact, warning that if Greece were to leave the group, others would swiftly follow.
"I have made my position very clear: that everything must be done to keep the eurozone together politically because we would soon have a domino effect," said the chancellor.
In Greece meanwhile, authorities were bracing for a new round of strikes to protest against new civil service pay and job cuts, as well as a surprise property tax translating into hundreds of euros per person on average.
EU officials have warned repeatedly that Athens will not receive the next slice of aid, worth eight billion euros, unless it can persuade an international team of observers that it can swiftly reduce its deficit pile.
Reform laws voted on months ago have yet to be put into practice, and a crash privatisation programme has made little tangible progress, raising fears Athens will soon simply run out of money.
On Monday, deputy finance minister Filippos Sachinidis said the government had enough cash to last until October.
Merkel combined a carrot-and-stick approach, saying she was making it clear to Athens "in direct contacts" with Greek authorities "how serious the situation was" but adding also that Athens was making some progress.
"Everything I hear from Greece is that the Greek government has hopefully seen the writing on the wall and is now doing some of the things that are required," she said.