EU criticism of Russia's rights record and fears Moscow will delay its WTO entry clouded EU-Russia talks Wednesday, but the two sides aligned on climate issues ahead of a key summit in December.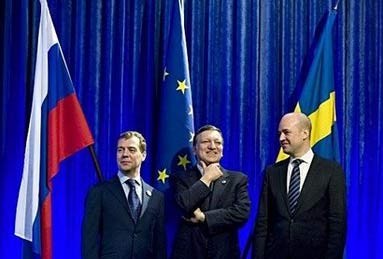 Russian President Dmitry Medvedev (L) poses in front of Russian, EU and Swedish flags with EU Commission President Jose Manuel Barroso (C) and Swedish Prime Minister Fredrik Reinfeldt during the summit between the European Union and Russia in Stockholm. (AFP Photo)
Russia agreed to cut greenhouse gas emissions by 20 to 25 percent by 2020 from 1990 levels, raising its target from 15 percent and aligning itself with the EU's objectives, European Commission president Jose Manuel Barroso said.
"With the Copenhagen conference (on climate issues) starting in just over two weeks, we have made very important progress today," he said.
Russian President Dmitry Medvedev did not comment on the new emissions target, but a source in the Russian delegation quoted by Russian news agency Interfax confirmed Medvedev had revealed the proposal during the talks in Stockholm.
He hopes to meet the target by improving Russian factories' energy efficiency by 40 percent, the source said.
The EU has vowed to reduce its own greenhouse gas emissions by 20 percent by 2020, raising the target to 30 percent in the event of an international agreement on the issue.
Moscow's tougher climate stance also ups the pressure on other heavily polluting industrialised and emerging countries, such as the United States, China and India.
But the summit, hosted by Swedish Prime Minister Fredrik Reinfeldt whose country holds the EU presidency, also laid bare discord between the two sides as Reinfeldt took a swipe at Russia over its rights record.
"We exchanged views on human rights, the rule of law and democracy in Russia, especially the situation for human rights defenders in Russia," he said. "This is an increasing cause for concern."
Medvedev did not respond directly to the criticism but said that on the Caucasus, "we have some differences here that should be acknowledged," notably on the situation in Georgia and the secession of its two pro-Russian republics, Abkhazia and South Ossetia.
"But we don't have to dramatise the situation, on the contrary we should discuss it," he said, reiterating his view that Tbilisi's actions during the 2008 war with Georgia over South Ossetia were an "aggression."
Rights groups have accused Russian forces of committing abuses during the Georgia war, while also saying that many killings of Russian journalists and activists go unsolved.
Earlier Wednesday, rights groups including Memorial in Russia and Human Rights Watch urged the EU presidency to pressure Moscow.
In a statement, they accused Russian authorities of neglecting to investigate recent killings and kidnappings in the Caucasus.
Friction was also apparent on the issue of Russia's membership in the World Trade Organization (WTO).
Moscow has said it plans to form a customs union with Kazakhstan and Belarus and tie its WTO membership application to that of the two other countries.
But the EU, which would like to see Moscow join as soon as possible to put it on a trade par with Western countries, fears that such a move would delay its entry.
"We fully understand their interest in having a customs union," Barroso said, but Europe was "concerned" that such a union would lead to tariffs that could be "detrimental" to EU member states.
"Our concern is that (the customs union should) not delay the WTO accession," he added.
Medvedev rejected the EU fears, saying it mattered little to Russia whether it joined the WTO as a bloc or as individual countries in coordination.
"For us the most important thing is that we join quickly," he said.
Russia and the EU also hailed an energy early warning agreement signed on Monday in Moscow aimed at averting a sudden disruption of gas supplies.
Europe well prepared for any winter gas crisis: experts
Russia supplies a quarter of the gas consumed in the European Union, with most of it transiting Ukraine, which regularly has rows with Moscow over bills.
European nations saw gas shortages last winter during one such payments row.
An expert group said Wednesday that EU countries are well prepared to handle such shortages this year.
The EU gas coordination group -- including national and industry experts as well as consumers' representatives -- made the reassuring announcement after studying gas consumption and storage levels throughout Europe.