GENEVA, Aug 25, 2011 (AFP) - A ship chartered to evacuate foreigners from Tripoli docked at the Libyan capital this morning, the International Organization for Migration told AFP Thursday.
"We are optimistic the boat will be able to depart this afternoon for Benghazi," IOM spokeswoman Jemini Pandya said.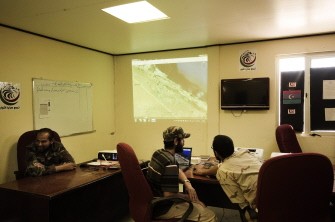 AFP - Libyan rebels look at maps in the operations room at the Zuwaytina petrochemical installation compound used by rebel forces as a central operational node for the eastern front in Zuwaytina, about 150 kms (93 miles) southwest of the opposition capital Benghazi, on August 24, 2011.
Earlier the IOM had said the ship, which has a capacity to evacuate up to 300 people, was scheduled to arrive Tuesday but security concerns prevented it from docking.
According to the IOM around 1,700 Filipinos, 2,000 Bangladeshi and 1,500 to 2,000 Egyptians have registered with their embassies to be evacuated from Tripoli.
Many more immigrant communities, especially from sub-Saharan Africa, are expected to want to be evacuated but have been unable to reach their embassies, the IOM said.
Pandya added that another boat is expected to arrive this weekend and further information would be made available later Thursday.