The Vietnamese Embassy in Libya has prepared plans to ensure security and safety for Vietnamese citizens in Libya and evacuate them in case of emergency, Ambassador Dao Duy Tien said on July 31.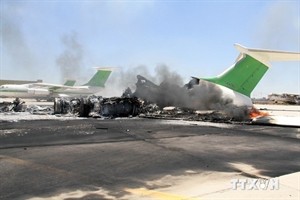 (Source: AFP)
According to the ambassador, armed conflicts and security instability in Libya have greatly influenced the lives of Vietnamese workers here. They have been out of regular water and electricity supply and even robbed by local armed men.
The Vietnamese in Libya now number over 1,550, of whom about 220 are working in two areas of hostilities, the capital Tripoli and Benghazi city, and the remainder are in non-violence areas, he told the Vietnam News Agency.
Earlier, 11 embassy staff members and their relatives together with 206 people working for a Turkish company have been sent home, he said.
At present, an evacuation roadmap was in place to remaining staffers of the embassy and representative agencies of Vietnam in the country, said the ambassador.
The embassy will maintain in regular contact with representatives of the Vietnamese workers in localities to keep up with the latest developments and provide them with promptly preventive measures.
It will closely coordinate with labour export companies and local employers in addressing necessary procedures to evacuate the Vietnamese workers and ensure their safety, he added.
Meanwhile, foreign employers have been required to deliver the Vietnamese workers home when they decide to withdraw from Libya .
Domestic labour export companies have been advised to halt sending labourers to the country at this time.
About 800 Vietnamese workers at a Republic of Korea company are expected to fly home via Cairo on August 2