A former culture and sports minister was questioned by investigators Friday over suspicions the presidential office created a blacklist of cultural figures considered critical of the government, source from the Yonhap.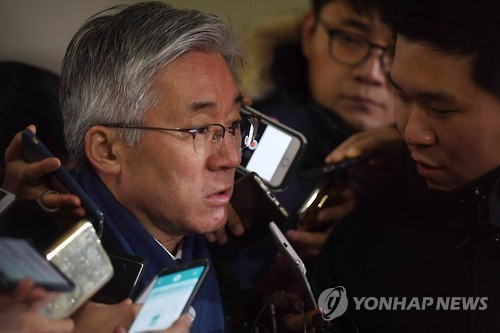 Kim Jong-deok, former culture minister, enters the special investigation team's office in Seoul to undergo questioning on Dec. 30, 2016. The team is looking into allegations the presidential office Cheong Wa Dae created a blacklist of cultural figures who are deemed critical of the government to restrict them from receiving government sponsorships. (Yonhap)
Professor Kim Jong-deok, 59, at Seoul-based Hongik University appeared before the special counsel team looking into a massive influence-peddling scandal surrounding President Park Geun-hye and her friend Choi Soon-sil.
Kim, who served as the country's culture minister from 2014 to earlier this year, is suspected of managing the list which was allegedly created by the presidential office Cheong Wa Dae to restrict the figures from receiving government sponsorships.
The list is known to have nearly 10,000 people on it, including author Han Kang, winner of the Man Booker International Prize 2016, and director Park Chan-wook, who won the grand prize at the Cannes Film Festival in 2004.
"I will reveal every detail and fully cooperate with the interrogation," Kim told reporters as he entered the office. He declined to comment further.
During a parliamentary hearing held earlier this month, he said he had never seen the list in person.
On the same day, prosecutors also called in former vice culture and sports minister Kim Chong and Choi's niece Chang Si-ho over suspicions they collaborated in coercing Samsung Electronics Co. to fund some 1.62 billion won (US$1.34 million) to a sports foundation controlled by Chang. The two are currently standing trial over the allegations.
The probe team is investigating whether the support was in return for the state-run pension fund's backing of a merger of two Samsung subsidiaries last year. It called in Kim Jae-youl, a senior executive at Samsung's ad unit, on Thursday and quizzed him for nearly 15 hours until early Friday over the suspicions.