LOS ANGELES, Oct 27, 2011 (AFP) - Tempers flared on Thursday as lawyers for Michael Jackson's doctor Conrad Murray launched a last-ditch bid to persuade jurors he is not guilty of causing the King of Pop's death in 2009.
As the defense prepares to present its final arguments in the five-week trial, one expert testified that Jackson was addicted to painkillers months before he died in Los Angeles.
Then the star defense witness took issue with the prosecution's claim that Murray should not have been using propofol, a clinical anesthetic and powerful sedative, to help Jackson's insomnia.
Citing a study criticized by a key prosecution witness, Dr Paul White said its authors "showed using propofol .. was safe and effective for normalizing disturbed sleep in patients who had chronic intractable insomnia."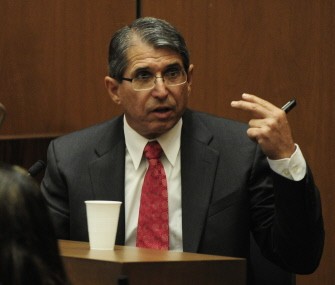 AFP - Dr. Paul White, anesthesiologist and propofol expert, gives testimony during the final stage of Dr. Conrad Murray's defense case in the involuntary manslaughter trial in the death of singer Michael Jackson at the Los Angeles Superior Court in Los Angeles on October 27, 2011.
Murray is accused of involuntary manslaughter for allegedly giving Jackson an overdose of propofol in combination with other drugs to help him sleep on June 25, 2009.
The defense only began calling witnesses on Monday, after four weeks of prosecution testimony which heavily implicated Murray in pop singer Jackson's sudden death at the age of 50.
White specifically rebuffed testimony by Dr Steven Shafer, an expert on propofol who testified for the prosecution over several days last week, and who was a student at Stanford Medical School while White was a professor there.
While not condoning Murray's use of the propofol, which is normally administered in a surgical setting, he played down the fact that the leaflet included with the packaged product did not specify its use for non-surgical sedation.
"Physicians often use drugs off-label, it just means you're using an approved drug for a disease, process or a disorder that isn't currently indicated in the package insert," he said.
"I have to tell Dr Shafer, he needs to learn how to spell plasma," he added archly, after a document from Shafer used in evidence included the typo "plsama."
The relationship between the two experts -- colleagues testifying against each other at a high-profile trial -- was highlighted last week when White allegedly called Shafer a "scumbag" in a comment to media.
Judge Michael Pastor scolded White for the reported comment, scheduling him to appear in court next month for possible contempt of court action.
White's testimony came after addiction specialist Robert Waldman told the court that Jackson was probably addicted to the painkiller Demerol, prescribed by Beverly Hills skin doctor Arnold Klein, months before his death.
"My opinion is that .. he was probably addicted to opioids," said Waldman, noting that withdrawal symptoms from Demerol include insomnia -- for which Murray has said he was treating Jackson for two months before his death.
Waldman's testimony was punctuated by repeatedly testy exchanges in court with prosecutors, in some of the most heated scenes since the trial started on September 27.
The addiction expert was called to testify by Murray's lawyer Ed Chernoff, who presented medical records subpoenaed from the office of Klein.
The records showed Jackson being treated with increasing doses of Demerol at sessions from April to June that year, to ease pain when he was being given Botox and other similar wrinkle-busting injections.
Murray's lawyers have tried during the trial to suggest that Jackson was a desperate drug addict who could have killed himself by self-administering an overdose of the clinical anesthetic propofol on the day of his death.
Murray faces up to four years in jail if found guilty by the seven-man, five-woman jury.