An explosion in a central Kabul neighbourhood on Saturday was caused by a "sound bomb" and appeared to have caused no casualties, an official said.
The blast happened around 10:20 am (0550 GMT) and was immediately followed by the sound of sirens as security forces rushed to the scene.
An official with the interior ministry told AFP that a "sound bomb" had been placed in a garbage skip on a main thoroughfare through the wealthy Wazir Akbar Khan neighbourhood.
"There are no casualties at all," spokesman Zamarai Bashary said.
So-called "sound bombs" are aimed at causing noise and confusion, rather than death and injury.
Afghanistan is marking the Eid-al-Adha Muslim festival of sacrifice with a four-day holiday until Tuesday, with most businesses closed and very little traffic on the capital's usually gridlocked roads.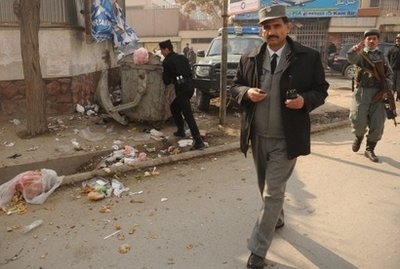 Afghan police stand guard at a site of a blast in the center of Kabul, on November 28.
Wazir Akbar Khan
is the location of the American and British embassies, as well as the residences of their employees. Many foreign firms also have offices in the nighbourhood, which is close to Kabul's airport.
It is also near the headquarters of NATO's International Security Assistance Force (ISAF), the scene of a massive suicide car bomb attack in mid-August that killed at least three people and wounded dozens more.
The area, like the rest of the Afghan capital, was quiet as most people celebrate the holiday at home with family.
An AFP employee on the site said the explosive device had been put in a large rubbish skip on the roadside, and the blast had resulted in garbage being spread across a wide area.
Kabul, the most heavily-fortified part of war-torn Afghanistan, has been attacked by Taliban-linked insurgents at least five times in recent months with around 100 people killed and 300 injured.
Most have been suicide car bomb attacks that the Taliban have claimed responsibility for.
Most recently, on November 13, a suicide car bomber struck near a US military base in Kabul, Camp Phoenix. No one was killed.
Kabul has been on heightened alert since October 28 when Taliban-linked insurgents stormed a guesthouse occupied by staff of the United Nations, most of whom were in the Afghan capital for work associated with the recent presidential election.
The tragedy at the guesthouse resulted in the deaths of at least five UN workers and two Afghans, and saw the United Nations withdraw up to 600 staff from Afghanistan, many of them to be permanently relocated elsewhere.