Jose Mujica, a leftist former rebel, was declared the winner Sunday of a presidential runoff vote in Uruguay after his opponent ex-president Luis Lacalle conceded defeat.
The co-founder of the radical leftist Tupamaros movement addressed cheering supporters in a triumphant speech that reached out to Lacalle and the opposition.
"The world is upside down," Mujica told his rejoicing supporters. "It is you who should be up on this stage and us who should be cheering for you because it is you who have led this fight."
"But we must also remember that there are compatriots who are saddened by these results, and they are our blood brothers and so it must be said that there are no winners and no losers!" he told supporters who waved the white, blue and red flags of the Frente Amplio party, a leftist coalition.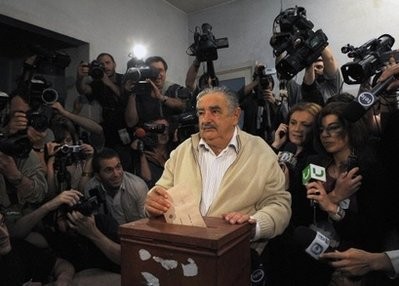 Uruguayan presidential candidate and former guerrilla Jose Mujica of the ruling Frente Amplio (Broad Front) votes during run-off presidential elections in Montevideo.
Lacalle, who governed Uruguay from 1990 to 1995, conceded defeat after exit polls showed Mujica had won some 51 percent of the vote.
The result, in an election triggered after neither candidate garnered an absolute majority in an October first-round vote, makes Mujica the second former Latin American rebel to be elected president recently, after Nicaragua's President Daniel Ortega, an ex-Sandinista.
Mujica's Tupamaros history had sparked consternation among some conservatives here, particularly as he has not hidden his admiration for flamboyant leftist Venezuelan President Hugo Chavez, but he came first in October's vote and polls showed him consistently leading Lacalle.
The ex-rebel chose a pragmatic former finance minister, Danilo Astori, as his running mate and the pair pledged to continue the economic policies of out-going President Tabare Vasquez.
Vazquez, who is constitutionally prohibited from running for office again, has high approval ratings thanks in large part to policies that have helped Uruguay avoid recession while maintaining a relatively low unemployment and reducing poverty levels.
Mujica has said he models himself on popular Brazilian President Luiz Inacio Lula da Silva, a left-leaning former labor activist who is known for a centrist approach.
But the former Tupamaros rebel has also won attention for his largely informal style, largely eschewing suits, and has been known make colorful remarks that delight his supporters.
When center-right former president Jorge Battle suggested that the Tupamaros movement had links to a recently uncovered weapons cache, Mujica gave a characteristically blunt response.
"I'm going to send him a bottle of Viagra so he can amuse himself with more useful things than saying this kind of crap," he said.
On Sunday, Mujica offered more conciliatory remarks in his victory address, flanked by his running mate Astori and outgoing President Vazquez, who was the first elected leftist president in Uruguay.
"We will pick a government that does not claim to own the truth and we need everybody," Mujica said, praising the country's opposition parties.
Despite driving rain and strong winds, Mujica's supporters filled the main street of the Uruguayan capital, stopping traffic as they celebrated.