Expectations were building for China to take the lead on climate change, as some 100 world leaders gather Tuesday to breathe new life into deadlocked negotiations.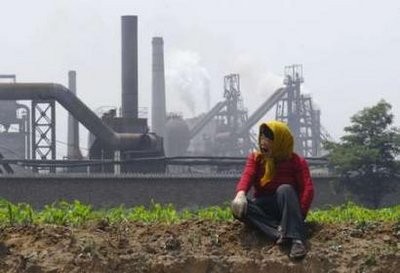 A factory in China (AFP Photo)
UN chief Ban Ki-moon called the biggest-ever summit of national leaders on climate change some 100 days before a high stakes gathering in Copenhagen, which is meant to seal a successor to the landmark Kyoto Protocol.
US President Barack Obama, who is fighting to push climate change legislation through the Congress, will address the summit on the eve of the annual UN General Assembly in New York.
But the spotlight may fall on President Hu Jintao of China, which according to some measures has surpassed the United States as the top emitter of greenhouse gases blamed for a dangerous rise in global temperatures.
Chinese officials have spent recent days in private talks billing Hu's address as a major announcement.
UN climate chief Yvo de Boer said he was advised that China would make "an ambitious" statement at the summit.
"This policy will make China become the world leader on climate change," de Boer told a small group of reporters.
"I have very high expectations on what President Hu will be announcing," he said, explaining that the measures will "take Chinese emissions very significantly away from where they would have been without a climate policy."
China, along with other developing nations such as India, has long resisted committing to any cuts in greenhouse gases, arguing that rich nations bear historical responsibility.
Former US president George W. Bush -- breaking with the leaders of virtually all other rich nations -- refused to take part in the Kyoto Protocol, calling it unfair by not requiring action by emerging powers.
Obama has sharply shifted course and declared climate change to be a priority. The US House of Representatives narrowly passed legislation to impose the first US national mandatory cuts on emissions, but the bill still awaits Senate action.
"What we see happening here is that health care is so dominating the (US) domestic agenda that it is pushing back the climate change legislation, making it more difficult for the US to come to Copenhagen with a strong position," de Boer said.
But Todd Stern, the State Department's special envoy on climate change, said the Obama administration was committed regardless of the status of climate legislation and that Obama would make a "strong statement" at the UN.
¨It's an opportunity for him to speak before the nations of the world on this issue," Stern said after meeting Friday with climate negotiators from major economies in Washington.
Also raising hopes of environmentalists, Japan's new Prime Minister Yukio Hatoyama is set to make his debut on the world stage at the UN General Assembly.
Hatoyama has said his center-left government will commit to cutting emissions by 25 percent from 1990 levels by 2020, compared with previous premier Taro Aso's eight percent goal.
"As Japan is probably the most efficient economy in the world, it's incredibly ambitious," de Boer said.
Ahead of the summit, the leaders of the world's most vulnerable nations -- small islands across the planet's oceans -- appealed for action.
Dessima Williams, a former Grenadian diplomat who heads the Alliance of Small Islands States, noted that recent science showed a sea level rise of at least one and maybe two meters by the end of the century.
"That would spell disaster, even disappearance, for some of our islands," Williams said.