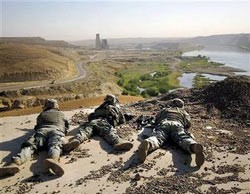 US soldiers participate in an operation along the Tigris River near Mosul in this handout photo taken July 6, 2006.
American forces were seeking new ways to stem the slaughter in Baghdad on Friday after previous tactics failed to halt a wave of sectarian violence and led instead to more US casualties.
With violence raging unchecked in Iraq's capital, a US military spokesman has acknowledged the situation is "disheartening" and that a much-vaunted joint US-Iraq security plan is under review.
The news comes as President George W. Bush finds himself on the defensive at home, as opposition Democrats seek to capitalize on growing concerns over US strategy in Iraq in congressional elections early next month.
Leaks from former US secretary of state James Baker's special commission on Iraq, however, suggest that alternatives to US policy are being explored, including troop reductions and a greater role for neighboring countries.
The US military in Baghdad were quick to add that the ongoing rethink is nothing new and a normal response to enemy activities.
"This review process is a constant process," said spokesman Lieutenant Colonel Chris Garver. "When the enemy reacts to our changes, we have to relook the plan."
Part of the "enemy's" reaction, however, has been to hit back hard against US troops in Baghdad and reinfiltrate areas that had been declared safe.
US soldiers have been dying at rates not seen since the 2004 seige of Fallujah, and the grim death toll for Iraqi civilians has risen unabated.
"We are obviously very concerned about what we are seeing in the city. We are taking a lot of time to go back and look at the Baghdad security plan," US military spokesman Major General William Caldwell said Thursday.
The plan was originally launched in June by Prime Minister Nuri al-Maliki to stabilize the capital. Two months later, with violence rising, a second phase was initiated with double the number of US troops.
But according to the latest figures, the additional 4,000 US troops and concentrated sweeps through violence-plagued neighborhoods have failed to stop the daily sectarian killings.