NEW YORK, Jan 20 (AFP) – US law enforcement agentsarrested more than 100 alleged Cosa Nostra mobsters in raids around New York in the biggest such operation on record against the Italian-American mafia.
More than 800 officers took part in the early morning roundup in New York City, New Jersey and Rhode Island, Attorney General Eric Holder told a press conference.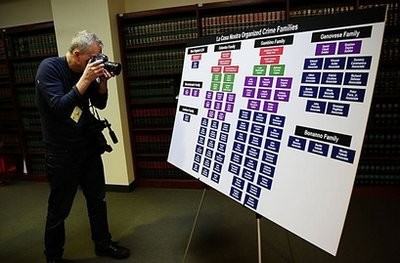 A photographer takes a picture of a chart displaying arrested organized crime members during a press conference by US Attorney General Eric Holder at the US Attorney's Office in New York. AFP
The sweep, featuring "unprecedented" cooperation between the FBI, local police and other bodies, netted 127 alleged mafia members and associates, he said. One of the arrests took place in Italy.
"Today's arrests and charges mark an important step forward in disrupting La Cosa Nostra's illegal activities," said Holder, who took the unusual move of traveling to Brooklyn personally to announce the arrests.
He hailed "the largest single-day operation" against the organized crime families.
The suspects included minor associates, "soldiers," "captains" and a host of high-ranking bosses, wiping out much of the leadership of the Colombo and Gambino families -- two of the historic "Five Families" in New York.
Charges included murder, loansharking, arson, drugs, robbery, labor racketeering and extortion, including a sort of mob tax on Christmas bonuses paid to longshoremen working the New York and New Jersey docks.
Suspects were herded in handcuffs for fingerprinting and processing.
The "Five Families" that have dominated organized crime in New York City since the 1930s are the Genovese, Gambino, Lucchese, Colombo and Bonanno.
While indictments described traditional mafia money-making activities, there were also echoes of the casual brutality in Cosa Nostra circles. The murders included a double killing that followed a dispute over a spilled drink in New York's Shamrock Bar in 1981.
Cosa Nostra families once infiltrated and controlled large swaths of the US economy, with a longtime stronghold in and around New York and tentacles throughout the country.
The phenomenon has deep roots and Italian-American crime organizations remain an important factor. But New York's Five Families have seen a sharp decline in fortunes over the last decadewith the conviction of many leaders.
The Italian mafia "is probably not nationwide in its scope, as it once was, but the reality is that it is an ongoing threat, a major threat," Holder said.
He acknowledged that the mob "has shown itself to be resilient."
Even with ethnic-Russian, Mexican and Asian gangs moving in on the US organized crime landscape, the Italian-American families continue to loom large in the popular imagination thanks to classic movies such as "The Godfather" and the award-winning "Sopranos" series on cable television.
What fewer realize is the extent to which prosecutors have managed to shatter the mafia's code of silence by recruiting high-level mobsters to testify against their comrades, usually in exchange for reduced sentences.
In 1991, the acting head of the Lucchese family, Alphonse D'Arco, agreed to testify against his associates. Then Salvatore Gravano testified against the Gambino family, leading to the imprisonment of John J. Gotti, previously known as the "Teflon Don," because of his ability to escape prosecution.
A marathon effort to convict Gotti's son John "Junior" Gotti in 2009, however, spectacularly collapsed.
Even though one of his previously closest confidants testified against him, the mafia scion walked free after a mistrial. It was the fourth time in five years prosecutors had failed to pin charges against him.
The authorities subsequently said they were closing their case against Gotti.