CAPE TOWN, March 3, 2009 (AFP) - Every day at dawn, Terence Sipholo makes his way to the Cape Town street corner where he and scores of unemployed men wait hopefully for an offer of casual work to put food on the table.
It has been a week since he got a gardening stint, and by midday fortune has barely made a dent in the group at the corner of Strand and Buitengracht, who lay sprawled under a few small trees to escape the baking sun.
"It is not coming. I am worried. I need bread and butter," said Sipholo, 30, who lives in the nearby township of Khayelitsha.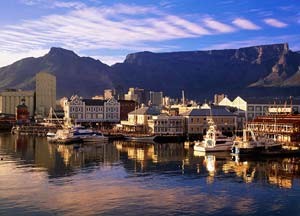 A corner of Cape Town
Having completed school, and with experience in mechanics, Sipholo is already more skilled than millions of unemployed South Africans who provide government's biggest headache as it aims to halve unemployment by 2014.
A large number of Zimbabweans mingle in Sipholo's group under the city's landmark Table Mountain, highlighting another problem: The millions of immigrants jostling for local employment.
As economic crisis tears around the globe, South Africa's recent employment gains will take a major knock with up to 250,000 job losses expected this year due largely to a slowdown in the mining and automotive industries.
British mining group Lonmin announced 5,500 job cuts in South Africa this week, shortly after global mining giant Anglo American said it would cut 10,000 jobs in South Africa working for subsidiary Anglo Platinum, the world's biggest platinum producer.
South Africa's biggest trade union umbrella body the Congress of South African Trade Unions (Cosatu) secretary general Zwelinzima Vavi said the impact on jobs in the country was a "bloodbath".
"The impact is much larger than what we thought it was going to be. We are in the middle of the worst crisis we have seen in our lifetime. We are feeling it I can tell you now," he told AFP.
Since 2004, South Africa has created on average 500,000 jobs a year, making slight inroads into an official unemployment rate of 23.1 percent, believed closer to 40 percent if those no longer seeking work are included.
"Unfortunately that is going to be reversed," said Vavi. "We are calling it a bloodbath."
Merrill Lynch economist Nazmeera Moola said the situation in South Africa would depend on how the crisis unfolds globally, as well as on the government's plans for ambitious infrastructure development.
"Unemployment is going to go up. We expect the economy is going to shed in the region of 250,000 jobs. That is not unexpected given what's going on globally," she told AFP.
In order to boost growth prospects, Finance Minister Trevor Manuel announced the country would spend some 787 billion rand (77 billion dollars, 61 billion euros) over the next three years on infrastructure.
A government task team is also reviewing ways to ease the pressure on industry.
South Africa has so far escaped recession, but hovers close with growth prospects lowered from 3.1 percent this year to 1.2 percent, a decade low after years of rapid expansion. The economy contracted last quarter by 1.8 percent.
"The two things that matter most are what happens to commodity prices this year," Moola said. The other concern is whether local banks will step up their lending as the year progresses, she added.
Colin Boyes, executive director of the Cape Engineers and Founders Association wrote in the Cape Times newspaper this week that as a small economy focused on mineral exports and auto parts, South Africa was "at the mercy of economic forces beyond its control."
According to Vavi, hopes of halving unemployment by 2014 are slim, and any gains from infrastructure projects would be offset by job losses elsewhere.
The losses are especially harsh here because the average worker supports between five and 12 other people, he said.
"It is a complete disaster."