A huge quake measuring 7.0 rocked the impoverished Caribbean nation of Haiti Tuesday toppling buildings and causing widespread damage and panic, officials and AFP witnesses said.
"I think it's really a catastrophe of major proportions," Haiti's ambassador to the United States, Raymond Alcide Joseph, told CNN television.
All communications with the island went down after the earthquake and no details were immediately available on any people killed or injured in the disaster.
A tsunami alert for the Carribean region was immediately issued after the earthquake struck at 2153 GMT.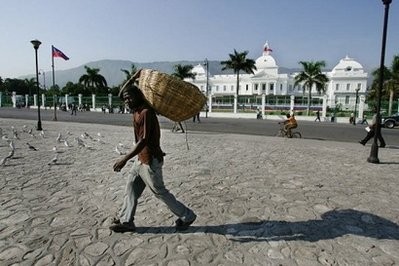 A Haitian man walks past the Presidential Palace in Port-Au-Prince, Haiti in 2006.
An AFP correspondent said the ground shook for more than a minute. Later three aftershocks measuring 5.9, 5.5 and 5.1 on the moment magnitude scale hit, US officials said.
In Port-au-Prince, local media reported that the presidential palace, parliament, cathedral and several ministries were badly damaged.
An AFP correspondent in Petionville, a suburb east of the capital, said one three-story building, housing two offices, was toppled by the quake, and a tractor was already at the scene trying to dig out victims as people fled onto the streets in panic.
The up-scale area is home to many foreign diplomats and members of a major United Nations mission to the country.
The US Geological Survey (USGS) said the powerful quake was initially measured at 7.3 and struck 16 kilometers (ten miles) from the capital Port-au-Prince, and 27 kilometers (17 miles) from Petionville.
The earthquake struck at a depth of 10 kilometers (6.2 miles), the USGS said.
In Washington, President Barack Obama said the United States stood ready to help.
"My thoughts and prayers go out to those who have been affected by this earthquake," Obama said. "We are closely monitoring the situation and we stand ready to assist the people of Haiti."
A US Southern Command spokesman in Miami said the agency was "monitoring the situation and coordinating everything to respond rapidly."
A tsunami warning issued for Haiti, Cuba, the Bahamas and the Dominican Republic was scrapped shortly afterwards.
Haiti's ambassador told CNN he was heartbroken as he had just spoken by telephone with a senior presidential aide who described scenes of chaos and devastation.
"He had to stop his car just about half an hour ago, and take to the streets, start walking, but he said houses were crumbling on the right side of the street and the left side of the street," Joseph said.
Already the poorest nation in the Americas, Haiti has been hit by a series of disasters recently and was battered by hurricanes in 2008.
Four big storms -- Tropical Storm Fay and hurricanes Gustav, Hanna and Ike -- pounded impoverished Haiti in August and September 2008, killing a total of 793 people and leaving more than 300 others missing, according to government figures.
The country was also gripped by a tense political standoff in April 2008 amid riots over skyrocketing food prices. UN troops are a regular sight throughout much of the country.
Seventy percent of Haiti's population lives on less than two dollars per day and half of its 8.5 million people are unemployed.
According to official figures, food insecurity already affects more than a quarter of Haiti's population, some 1.9 million people, with women and children the worst affected.
The Food and Agriculture Organization has designated Haiti as one of the world's most economically vulnerable countries.
The WFP serves one meal a day to more than 500,000 Haitian schoolchildren, providing them with what is often their only meal of the day.
The organization also feeds 100,000 women who are pregnant or breastfeeding and 50,000 children under the age of five.
Since mid-2004, the Brazilian-led MINUSTAH has been keeping the peace in the impoverished Caribbean island nation.