WASHINGTON (AFP) – Federal Reserve policymakers kept ultra-low interest rates and stimulus spending in place Tuesday, amid high but falling unemployment at home and crises in the Middle East and Japan.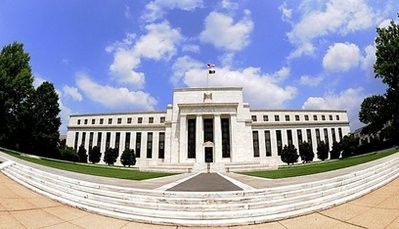 The US Federal Reserve building in Washington, DC. AFP
The Fed held rates at historic lows and stuck to a $600 billion stimulus plan in an effort to spur growth, as it pondered events in the Arab world that have pushed up oil prices and a developing nuclear crisis in quake-hit Japan.
The Fed kept the crisis stimulus in place despite a "firmer" economic recovery at home -- where unemployment eased, consumer spending picked up and businesses grew more optimistic.
"The economic recovery is on a firmer footing, and overall conditions in the labor market appear to be improving gradually," the Federal Open Market Committee said in a statement.
Since the bank last met in January the unemployment rate has fallen to 8.9 percent from 9.4 percent.
"These more positive developments at home have clearly been overshadowed by global issues," said Harm Bandholz, chief US economist with UniCredit Research, referring to the Fed's communique.
While the Fed did not specifically mention Japan by name, Bandholz and others suggested havoc in the world's third-largest economy are weighing on the Fed and investors, who sold off shares on Tuesday.
According to Brian Bethune of IHS Global Insight, the Fed's "no comment" on Japan was welcome: "It is still too early to get a good read on this, and any comment could be counterproductive in terms of adding to investor anxiety and fueling uncertainties about the ripple effects back to the US economy and the global economy."
The Fed meanwhile broadly waved off concerns of rising prices, which have been fueled by the fighting in Libya that has pushed up the cost of oil.
With Americans struggling to pay gasoline prices that have risen around 43 cents a gallon (3.8 liters) in the last month to an average of $3.56, the Fed insisted that core inflation remains in check.
"Commodity prices have risen significantly since the summer, and concerns about global supplies of crude oil have contributed to a sharp run-up in oil prices in recent weeks," the Fed acknowledged.
"Nonetheless, longer-term inflation expectations have remained stable, and measures of underlying inflation have been subdued."
While stopping well short of accepting criticism that inflation is rising too rapidly, that language signaled a slight shift for the central bank.
In January Fed members had noted inflation was "trending downward" versus the "subdued" rate now seen.
The Fed's measure of "core" inflation excludes volatile food and energy prices, which are often the costs most keenly felt by consumers.
But after New York Fed President William Dudley was harangued at a recent public meeting for not dealing with rising food and oil prices, the Fed appeared chastened.
Stephen Stanley of Pierpont Securities said that, with the Fed vowing to keep a close eye on future inflation, it "instantly goes from being stubbornly immune to any evidence of headline inflation to 'paying close attention.'"
Dudley recently tried to explain low core inflation by noting that the new, more powerful iPad II costs the same as an iPad I.
That prompted one audience member to observe: "I can't eat an iPad."
Still, the bank said further economic stimulus was needed to push inflation levels closer to the two percent rate the Fed deems healthy.
The bank has predicted inflation will be close to a range of 1.3 percent and 1.7 percent this year.