Cuban leader Fidel Castro, who is recovering from major intestinal surgery, appeared in the first new video of him in 14 months, joking and chatting with Venezuelan students.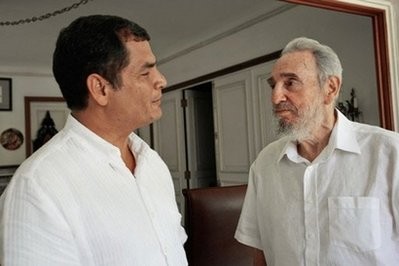 Cuban leader Fidel castro (R) is seen talking with Ecuadorean President Rafael Correa in a photo taken by Cuban newspaper Juventud Rebelde in Havana on August 21
Castro, who turned 83 this month, led the Americas' only one-party communist country through nearly half of the 20th century and into the 21st before taking ill in 2006. Cuban television aired the new video footage on Sunday.
Castro, who is still the chief of the Cuban Communist Party, had been pictured in a new still image in state-run media just Saturday, in a shot taken during a meeting with visiting Ecuadoran President Rafael Correa.