Libyan new leaders warned of a "fierce battle" for pro-Moamer Kadhafi bastion Bani Walid after a truce deal foundered, as top officials of the ousted dictator's regime sought refuge in Niger.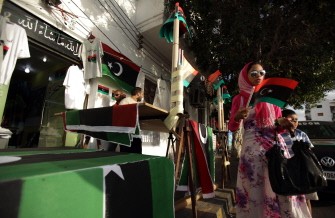 A Libyan woman buys the new flag adopted by the National Transitional Council (NTC) in Tripoli on September 6, 2011
Optimism that loyalist troops controlling Bani Walid would lay down their arms and allow National Transitional Council (NTC) fighters to roll in dissipated late Tuesday when tribal elders who negotiated the truce were barred from re-entering the town.
"I think there will be a fierce battle in Bani Walid. Armed groups are occupying Bani Walid so we must free it," NTC military commander Colonel Abdullah Abu Asara told AFP.
Witnesses reported seeing the tribal elders heading away from Bani Walid, 170 kilometres (105 miles) southeast of Tripoli, towards the nearby town of Tarhuna late on Tuesday.
The elders had earlier met with NTC officials in a mosque in the village of Wishtata on the outskirts of Bani Walid for a new round of talks after negotiations for the town's surrender collapsed on Sunday.
Abdullah Kenshil, NTC chief negotiator, said after the meeting he was optimistic a solution had been found to the standoff and that fighting would be avoided.
But Asara later said pro-Kadhafi forces had prevented the Bani Walid elders from returning home following the talks, adding that this was a worrisome move that could mean a battle was necessary to free the oasis town.
"Armed groups stopped them at a checkpoint on the outskirts of Bani Walid and prevented them from delivering the truce to people under threat of death," Asara said.
Washington, meanwhile, said that some senior officials of the ousted regime were in a convoy that fled across Libya's southern border with Niger late Monday, but that Kadhafi was not believed to be among them.
The large convoy of civilian and military vehicles entered Niger and drove through the city of Agadez, raising questions about whether the toppled strongman had fled the country with them.
"We don't have any evidence that Kadhafi is anywhere but in Libya at the moment," State Department spokeswoman Victoria Nuland said.
She called on Niger to cooperate with the NTC in bringing potential Libyan war criminals to justice.
"We have strongly urged the Nigerien officials to detain those members of the regime who may be subject to prosecution, to ensure that they confiscate any weapons that are found, and to ensure that any state property of the government of Libya -- money, jewels, etc. -- also be impounded so that it can be returned to the Libyan people," she said.
Niger's Foreign Minister Mohamed Bazoum was adamant the ousted Libyan leader was not in the convoy.
"The truth is that several people, of varying importance, arrived in Niger. That's it, there are no high-profile figures, certainly not Kadhafi himself nor any of his sons," Bazoum told AFP.
The Libyan strongman has not been seen since rebels stormed Tripoli on August 20, although as recently as last Thursday he aired audio messages calling on his supporters to prepare for guerrilla war.
Niger's southern neighbour Burkina Faso on Tuesday ruled out granting asylum to Kadhafi, saying it did not want to create problems for the west African country.
"We cannot grant him asylum because for the past three years we have not had good relations with him," said government spokesman Alain Traore. "We don't see why we would stick our neck out for him and create problems for ourselves."
On Monday Kadhafi's spokesman Mussa Ibrahim insisted his boss was still in Libya, in "excellent health" and ready with his sons to fight to the death.
"He is in a place that those scums did not reach. He is fighting inside Libya," Ibrahim told Syria's Arrai television.
NTC forces advanced at least eight kilometres (five miles) towards Moamer Kadhafi's hometown of Sirte in heavy fighting on Tuesday, commanders said, stressing that the clashes did not mark the launch of an all-out bid to capture the city which remains in the hands of Kadhafi forces.
One government soldier was killed and two wounded, while at least one of Kadhafi's men lost his life, the commanders added.
The fighting east of Sirte brought NTC fighters to within less than 80 kilometres (50 miles) of the city, one commander told AFP.
"The clashes were very intense," said the commander, Mustafa Bendardaf.
"Five enemy vehicles were taken out. Three were destroyed in NATO air strikes and two were captured by our men," he said.
An AFP correspondent behind the frontline heard intense artillery exchanges throughout the day.
Another NTC commander, Adel Semfez, said that the fighting had been sparked by a reconnoitre launched at dawn by a unit led by famed rebel commander Selim Nabus, which had ambushed a pro-Kadhafi convoy, destroying four vehicles and capturing a fifth.
"It was a fairly routine engagement for this front line," he added, stressing that it did not mark the launch of a major offensive.