FIFA, football's world governing body, has been a "corrupt shambles" for years and everyone knows it, former sports minister David Mellor said.
Mellor, who was a Cabinet minister and chairman of Britain's Football Task Force in the 1990s, said FIFA needed to be suspended entirely and reformed.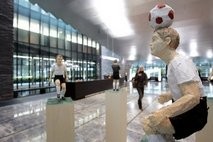 This file photo shows a sculpture of a football player at the entrance hall of FIFA headquarters in Zurich.
He said the 25-strong executive committee needed to be replaced by a decision-making body of more than 100 people so that it was "possible to have fair elections".
"FIFA has been a corrupt shambles for years, it's obvious to everybody," Mellor said.
"FIFA itself should be suspended as an entity and reformed," he said.
Mellor called for the government to get involved because the Football Association, the game's governing body in England, "is hopeless".
He questioned why London had not got involved before, particularly after England's bid to host the 2018 World Cup was defeated last year amid accusations of bribery.
"The time for David Cameron and the sports minister taking action was when we were so humiliated," he said.
"What the government should be doing now is working with other governments, either through the European Union or through groupings of governments on economic issues and a demarche should be sent to FIFA, a set of principles that FIFA should reform itself or be reformed from outside."