TAIPEI, Aug 10, 2009 (AFP) - At least 15 people were confirmed dead and 55 others were missing in Taiwan Monday after Typhoon Morakot caused the island's worst flooding in half a century, rescue services said.
The military was also trying to rescue thousands of people cut off by fallen bridges or raging rivers after the typhoon dumped a record 2.5 metres (100 inches) of rain on the island before heading for mainland China.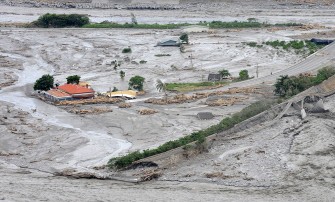 Debris and floodwater surrounds buildings and a destroyed section of road in Taimali, in southeast Taiwan's Taitung on August 10, 2009 (AFP photo)
At least 32 people were also injured as Morakot, which means emerald in Thai, lashed the island with powerful winds and rain, disrupting railway and road traffic and bringing down bridges.
In central and southern Taiwan heavy rain caused widespread floods and mudslides, particularly in the county of Pingtung, where thousands of people were trapped in three coastal townships.
With rain continuing to fall, authorities issued a red alert against possible mudslides, urging people living in 35 towns island-wide to be on heightened alert.
In Kaohsiung county a bridge collapsed, cutting off road access to a remote village of 1,300 residents.
Local television reported that 200 homes in the village, Hsiaolin, were believed to have been buried in a mudslide.
Footage showed rescuers using a helicopter to pick up an elderly woman and her son trapped in the mud.
"It is not clear what the residents' situation is, but we are sure that Hsiaolin elementary school has been fully destroyed," Kaohsiung County Magistrate Yang Chiu-hsin told reporters.
Eight specially trained rescuers and 13 soldiers from an elite unit were helicoptered into Hsiaolin after rescuers earlier flew 45 people to safety and survivors spoke of family members being engulfed.
A 46-year-old man, identified only by his surname Weng, told the TVBS cable news network that 10 family members had disappeared in mud from which he had narrowly escaped.
"All of them were gone," he said in tears.
Rescue authorities plan to send up to 160 rescuers to the village, an official from the disaster contingency centre surnamed Liang told AFP.
Tens of thousands of other people were also stranded in the counties of Tainan and Chiayi.
In Chungpu, a township in Chiayi, three people were buried alive, but workers later rescued one man from rocks and mud.
"This is the worst flooding in Chiayi in 50 years," county magistrate Chen Ming-wen said earlier.
A typhoon that struck Taiwan in August 1959 killed 667 people and left some 1,000 missing.
Typhoon Morakot has caused at least 3.4 billion Taiwan dollars (106.43 million US) in agricultural damage while 110,000 houses were left without power and 850,000 homes without water, according to officials.
Among the missing were 14 workers who disappeared when their makeshift shelter beside a river in Kaohsiung was washed away by rising floodwaters early Sunday.
A bridge linking Kaohsiung and Pingtung counties collapsed and a local television station quoted a motorist who narrowly escaped plunging into the river as saying he feared that two cars had fallen in.
Armoured vehicles and marine landing craft, as well as rubber dinghies, were mobilised in a rescue operation Sunday involving at least 1,200 troops, Taiwan's defence ministry said.
Television footage showed a hotel in Taitung, southeastern Taiwan, collapsing into a river. Staff and guests had already been evacuated, the reports said.
The powerful storm moved on towards mainland China, landing in Fujian province at 4:20 pm (0820 GMT) Sunday, the provincial meteorological bureau said.