ESPOO, Dec 31, 2009 (AFP) - A lone gunman shot dead his former girlfriend and then gunned down four of her work colleagues in a rampage at a Finnish shopping mall Thursday before turning his weapon on himself.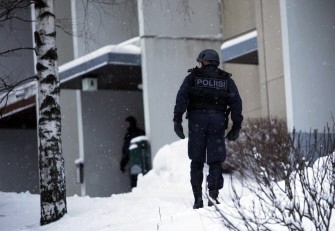 Police stand guard outside of an apartment where a gunman who shot dead five people returned after his shooting spree to kill himself on December 31, 2009 in Espoo (AFP photo)
Police launched a manhunt which saw the shut-down of Finland's second largest shopping centre, and later found the 43-year-old Kosovo-born gunman's body close to the scene.
It was the latest in a series of killing sprees to send shockwaves through the Nordic nation, which has one of the world's highest rates of gun ownership.
Shoppers first raised the alarm shortly after 10:00 am (0800 GMT) when shots rang out in the packed Sello mall in Espoo, around 15 kilometres (10 miles) from the centre of the capital Helsinki.
Witnesses said the shooting sparked panic among the around 4,000 New Year's Eve shoppers in the mall, with many charging headlong for the exit.
Armed police and medics who rushed to the scene found the bodies of three men and a woman at the Prisma supermarket where gunman Ibrahim Shkupolli's ex-girlfriend had been working.
Investigators later found her shot dead at her home nearby.
They said that Shkupolli, who had earlier convictions for violence, had been subject to a court order which barred him from approaching his former lover.
The most likely trigger for the shooting spree was "a domestic dispute", chief investigating officer Jukka Kaski told AFP.
Authorities in Serbia confirmed that Shkupolli was a Kosovo Albanian but that he was not known to police there.
Ambulances rushed to the scene in Espoo after the first reports of gunfire. Security services evacuated the shopping centre and then cordoned off the area while public transport services were rerouted.
After an extensive search of the mall proved fruitless, officers issued a photograph of Shkupolli and called on the public to help find him.
Media reports said Shkupolli had opened fire with a 9 mm handgun, sending shoppers fleeing.
"Everyone was in a panic. They didn't know what was happening and some were crying," one witness told radio station Yle.
Shkupolli was born in Kosovska Mitrovica in northern Kosovo. Initial inquiries appeared to indicate that he did not have a criminal record in Serbia, according to Serbian Interior Ministry's spokeswoman Suzana Vasiljevic.
Kosovo Prime Minister Hashim Thaci sent a message of condolences to his Finish counterpart Matti Vanhanen, saying his government "received with deep sorrow the news that the serious crime was commited by a citizen with Kosovo origins."
"At these difficult moments, the people and institutions of the Republic of Kosovo are with you to share this deep pain," Thaci said.
The incident was the third major shooting in the past two years in Finland, where gun crime has become a major issue and gun ownership is widespread.
Eleven people were killed in September 2008 when a 22-year-old gunman burst into a school classroom, shooting dead eight female students and one male classmate as well as a male teacher, before turning the gun on himself.
An 18-year-old student also shot six students, a headmistress and a nurse before killing himself in a school in Jokela, north of Helsinki in November 2007.
Both of the shooters had easily acquired a license for their handguns.
The gunman behind the 2008 rampage, Matti Juhani Saari, had been questioned by police just a day before the massacre about a video posted on YouTube showing him shooting his weapon at a firing range.
However, they deemed he was not enough of a threat to withdraw his gun licence.