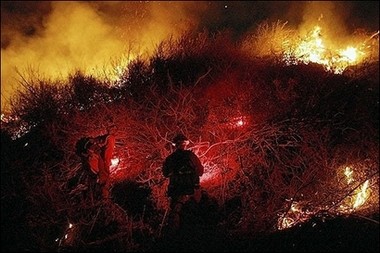 Firefighters set a backfire in California in 2005
Firefighters battled to contain a raging wildfire set by an arsonist in scrub forest east of Los Angeles that has claimed the lives of four firefighters and critically burned a fifth.
Authorities said the fire was deliberately set early Thursday in a desert region 125 miles (200 kilometers) east of Los Angeles, and whipped up by desert winds that later sent it shooting over a fire engine and its five-man crew.
Three men died at the scene and another in hospital. A fifth remains on life support with burns over 90 percent of his body, the Los Angeles Times said Friday.
"These winds were devil winds. They came out of nowhere," Pat Boss, a US Forest Service spokesman, told the paper. "They were fleeing for their lives ... and the flames caught them."
"Information was still coming in, but we now know that that's four firefighters who lost their lives, and the fifth is in critical condition," Governor Arnold Schwarzenegger said in the state capital of Sacramento on Thursday.
"It's a very sad day for California," he said.
Officials attributed the fire to arson and said the deaths could be considered homicide. Local media reports said a 100,000 dollar reward had been posted for the arsonist.
"This is a deliberately set arson fire. A deliberate arson fire that kills someone constitutes murder," said firefighters chief John Hawkins of the California Department of Forestry, speaking from the area of the fire.
The fire began near the town of Cabazon, and spread rapidly, devouring more than 19,000 acres (7,689 hectares), a Department of Forestry update said. Some 700 people were evacuated from the area.
Late Thursday, the fire was just five percent contained, and 1,194 firefighters were on the scene battling the deadly blaze, Sherri Sullivan, a spokeswoman for the US Forestry Service, told AFP.
"I've instructed the California Department of Forestry and Fire and my entire administration to put every resource to fight this fire and make sure the evacuees have everything that they need," Schwarzenegger said.
The five firefighters had parked their engine and were preparing to defend homes in a remote canyon area when towering flames shot up a hill, the Times said.
They had no time to flee or take cover. A nearby Forest Service crew saw what was happening but could do nothing to help their colleagues, it said.
The fire added to the record destruction of US forest land this year by wildfires: more area has been charred across the country than any year since authorities began keeping statistics in 1960. In just ten months of 2006, more than 9.6 million acres (3.9 million hectares) have been consumed since January 1, well past last year's 12-month record of 8.7 million acres.
California's fires have been exacerbated this year by a deep heat wave. In September a fire ravaged 120,000 acres of mountainous forest northwest of Los Angeles. Another fire in July swept through the scrub desert and mountains north of Palm Springs.