ATHENS, Aug 25, 2009 (AFP) - Firefighters claimed victory Tuesday over a devastating, wind-swept wildfire that ravaged the outskirts of Athens over four days, enabling them to redeploy waterbombers to other blazes in Greece.
"The situation has greatly improved, we currently have no active fronts in greater Athens," a fire department spokeswoman said. "Firefighting forces remain on location to watch out for possible areas of resurgence."
Waterbombers were diverted to Mount Kithaironas, west of Athens, and to Karystos on the island of Evia to tackle fires in both places that did not, however, pose a threat to inhabited areas.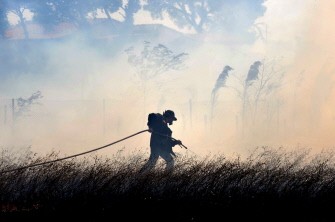 A firefighter works amid a thick smoke in Pikermi on August 24, 2009 (AFP photo)
More than 500 firefighters -- joined by counterparts from Austria, Cyprus, France, Italy and Turkey -- battled the wildfire northeast of Athens that scorched more than 20,000 hectares and destroyed scores of homes.
The public works ministry said around 150 homes had been "damaged," according to a first estimate, but it was widely agreed that scores of properties were completely destroyed.
The late summer inferno came exactly two years after similar wildfires killed 77 people in various parts of Greece, prompting strong criticism of the authorities.