LOS ANGELES, Sept 2, 2009 (AFP) - Firefighters made steady progress against a deadly wildfire raging in Los Angeles on Wednesday but officials warned that the monster blaze could spiral out of control once more.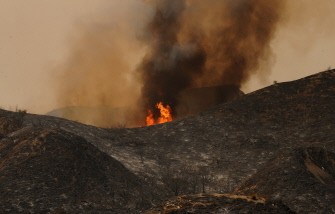 Fire burns close to blackened hills as the Station Fire continues to burn in the Angeles National Forest on the outskirts of Los Angeles city on September 2, 2009. (AFP photo)

The inferno, which officials have said is the largest in Los Angeles County's history, has left two firefighters dead, destroyed 64 homes and ripped through 140,150 acres (56,716 hectares), according to latest figures.
However another day of higher humidity allowed firefighters to increase containment of the mammoth wildfire to 28 percent, and most of the estimated 10,000 evacuees had been cleared to return home.
Fire commander Mike Dietrich told reporters at an afternoon press conference that firefighting efforts remained "complicated" and that the flames were causing new headaches by moving towards new areas.
"This is a very complicated situation," Dietrich said. "On the one hand I'm extremely optimistic based on the progress that has been made today. At the same time I'm equally guarded about the potential of the fire to spread."
There were conflicting reports concerning the cause of the fire, which erupted last Wednesday in the Angeles National Forest.
Deputy incident commander Carlton Joseph said investigators believed the fire was started by human activity, either by arson or an accident.
However US Forest Service supervisor Jody Norrin later said the cause of the fire was unknown. "What was reported was misconstrued information," Norrin said. "We honestly do not know what the cause of this fire is."
More than 4,100 firefighters are deployed against the fire, backed up by 14 helicopters, 10 tanker planes, 488 fire engines and 64 bulldozers, according to figures from the US Forest Service.
Dietrich said the aerial assault had been limited due to the thick layer of smoke that continued to shroud the firezone.
Efforts to protect communications antennas for numerous television and radio stations and a historic observatory on Mount Wilson had been successful, Dietrich said.
The fire in Los Angeles was one of several destructive blazes burning across California.
Governor Arnold Schwarzenegger told reporters that a total of five fires continued to burn. Two firefighters have died and 21 have been injured, Schwarzenegger said.
Los Angeles Fire Department Captain Jerry Meehan meanwhile said the fire was the largest in the area's history. "This is the biggest ever," Meehan told the Los Angeles Times. "This is the hottest-burning, most damaging I've ever seen."
California is frequently hit by wildfires due to its dry climate, winds and recent housing booms that have seen home construction spread rapidly into rural and densely forested areas.
In 2007, the state suffered some of the worst devastation from wildfires in its history that left eight people dead, gutted 2,000 homes, displaced 640,000 people and caused a billion dollars of damage.