Russia's Prime Minister Vladimir Putin opened on Monday the first section of the Siberian-Pacific oil pipeline network that will ultimately carry crude to China, Russian news agencies reported.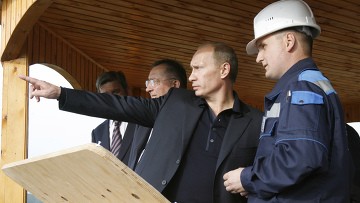 Russian PM V.Putin visits the oil pipeline construction.
"This is a strategic project that will let Russia into new Pacific Asia markets, where Russia was present insufficiently," Putin was quoted as saying by RIA Novosti news agency as he officially put the pipeline section into service.
He praised oil pipeline group Transneft for completing the section despite the global economic crisis.
The 2,964-kilometre (1,853-mile) section links Taichet in eastern Siberia with Skovorodino in the Amur region of the Russian far east.
The first section also included construction of an oil port at Kozmino Bay near Nakhodka on Russia's Pacific coast.
A second pipeline section will run from Skovorodino to Kozmino Bay.
Transneft and the Chinese oil group CNPC in October 2008 signed an agreement on the construction of a 67-kilometre branch line to China which will initially carry 15 million tonnes of oil a year it is becomes operational next year.