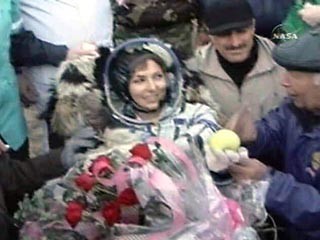 The first woman space tourist was greeted with fresh fruit and roses (Photo: NASA)
The world's first female space tourist was greeted with fresh fruit and a bouquet of roses when she and the two crew members of the 13th International Space Station mission landed Friday in the steppes of Kazakhstan.
The capsule carrying Iranian-born American Anousheh Ansari, Pavel Vinogradov of Russia and US astronaut Jeffrey Williams touched down softly at 0114 GMT north of Arkalyk, shortly after sunrise.
The vessel left the ISS at 2153 GMT Thursday.
The capsule began a free-fall after entering the atmosphere, then was slowed by a pair of parachutes that deployed several kilometers (miles) above the earth.
An engine fired when the capsule was several meters from the ground, making for a soft landing.
A spokesman for the space center was quoted by Russian news agency ITAR-TASS as saying that helicopters and planes of the space service had successfully pinpointed the capsule while it was still in the sky.
Space service agents helped the cosmonauts out of the capsule and wrapped them in furs as temperatures at the landing site hovered around zero degrees Celsius (32 degrees Farenheit).
A beaming Ansari was greeted by her husband, Hamid Ansari, who brought her a bouquet of red roses as she sat in a special chair to help her recover from weightlessness.
"The experience was more than I had ever imagined. It has exceeded every expectation," Ansari was quoted by space tourism company Space Adventures as saying. "Seeing the Earth from space will be forever etched in my mind."
Ansari had spent eight days on the ISS while Vinogradov and Williams had spent 183 days there.
NTV showed footage of Ansari's farewell broadcast from the ISS.
"I can't not be sad to leave," she said, her pigtails floating behind her in the zero-gravity. "I had a very unique experience because of the people here."
Nikolai Sevastyanov, the head of the Russian company Energia that constructed the ISS, praised the three at a news conference after the landing, saying the trip had been a success.
"The crew performed magnificently," Sevastyanov said. "This flight shows that non-professional cosmonauts can prepare themselves in a short period of time and succesfully fly into space."
After being examined by a medical team, the trio were to be taken by helicopter to nearby Kostanai. They were to fly to Moscow Friday to reacclimatize.
All three cosmonauts "are in good health," ITAR-TASS quoted a Russian space official as saying.
Ansari, 40, paid 25 million dollars (about 20 million euros) to space tourism agency Space Adventures to spend a week aboard the ISS, Space Adventures CEO Eric Anderson told AFP.
She lived in Iran until the age of 16 and is only the fourth space tourist in history.
Source: AFP