NEW DELHI, July 12, 2009 (AFP) - Five people were killed and another 15 injured when a section of a partially-constructed New Delhi metro bridge gave way suddenly early Sunday, a spokesman for the rail service said.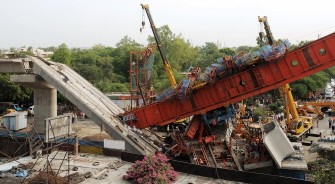 A heavy crane is used to clear wreckage at the accident site on July 12, 2009 (AFP photo)
The accident occurred when a pillar supporting a part of the carriageway collapsed, Anuj Dayal, spokesman for the Delhi Metro Rail Corporation (DMRC) told reporters.
"We are investigating the matter. It appears that there is a problem in the design of the pillar of the bridge," Dayal said.
The dead were labourers who were among a group of 30 men working at the site in south Delhi.
While three of the five were pronounced dead in hospital, emergency workers were still trying to extricate the bodies of two others from the concrete debris, Dayal said.
"Two of the injured are in a serious condition" while some workers had been discharged after first aid, he said.
The New Delhi metro system, launched in 2002, has been lauded for its cleanliness and efficiency and has revolutionised travel in the city.
Sunday's accident is the second major incident involving the Delhi metro service in less than a year.
In October, two people were crushed to death and 12 injured when a bridge being built to extend the metro system collapsed onto a bus and cars.