Taliban gunmen and suicide bombers attacked buildings in the heart of Kabul on Monday in a security breach that triggered fierce gun battles and killed at least five people including a child.
Fires raged after two shopping centres, a cinema and Kabul's only five-star hotel were targeted by heavily armed militants who set off a wave of explosions apparently targeting nearby government buildings.
The attack came as President Hamid Karzai swore in new cabinet ministers at his palace, part of the painfully slow process of forming a government since his own swearing-in in November.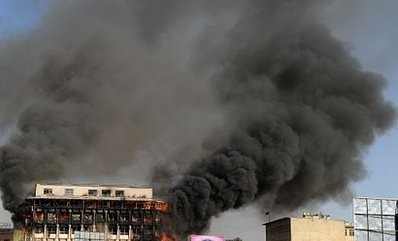 Smoke billows from a building where clashes between Taliban-linked militants and security forces occured in Kabul.
Five people were killed and 71 wounded, interior minister Mohammad Hanif Atmar said, in the most dramatic strike on Kabul since Taliban militants laid siege to government buildings in February 2009, killing at least 26 people.
Chronology: Attacks in Kabul
Atmar said a child and security forces personnel were among the dead, while seven militants were also killed.
"They were killed either by detonating themselves or they were shot by security forces," he said of the militants at a news conference.
With questions likely to be raised about how the attackers penetrated Kabul, Karzai said the situation was "under control," after more than three hours of fighting.
"The enemies of the Afghan people conducted a series of attacks today, causing fear and terror among the population," Karzai said. "The president condemns these terrorist attacks."
Following the chaos in the city centre, which has seen far fewer attacks than some other parts of the country, NATO Secretary General Anders Fogh Rasmussen praised Afghan security forces' defence of the capital.
The attackers "made it clear, in their choice of targets, that their aim is to reverse the progress that Afghans are making in building better lives and a better future," he said.
The attacks began in the morning rush hour, when suicide bombers stormed buildings around Pashtunistan Square, setting off explosions that sent clouds of black smoke into the sky and people fleeing in terror.
Atmar said a suicide bomber was challenged by a security agent in front of the central bank and "immediately blew himself up".
By 11:00 am security forces had moved into key positions, defence minister Abdul Rahim Wardak told the same press conference.
"At 11:17 am a suicide bomber driving an ambulance was stopped by Afghan security forces and detonated himself," he said.
The Taliban, waging an increasingly deadly insurgency against the Western-backed Kabul government and foreign troops, claimed responsibility.
"Twenty of our suicide bombers have entered the area," a man calling himself Zabihullah Mujahid, who said he was a Taliban spokesman, told AFP.
He said the presidential palace and ministries around Pashtunistan Square were the targets, but it appeared that government buildings had not been breached.
Smoke billowed from the Qari Sami shopping mall on the square, a five-storey building that used to be the Bamiyan Hotel and one of the buildings in the Serena Hotel, the city's only five-star hotel.
Eyewitness accounts: Terror in Kabul
"I saw four people wrapped up in blankets coming and the guard went forward and asked them 'what are you doing'," said local grocer Ismail, who was in his shop in one of the malls when militants stormed in.
"One of them opened his blanket and showed the guard a suicide vest packed with explosives and said to him, 'get out of my way or you'll die'."
The head of Afghanistan's National Directorate for Security (NDS), Amrullah Saleh, said militants took two children hostage but later freed them after negotiations.
The United States condemned the attacks as a "ruthless" act by the Taliban, whose rebellion to topple the government and oust foreign troops has been gaining strength.
The attacks came a day after the government said Karzai was to announce a new plan aimed at forging peace with the Islamist Taliban, although the militants have repeatedly rebuffed efforts at negotiation.
The last major attack on the capital was on December 15, when a suicide car bomber blew up his vehicle outside the homes of former senior government officials, killing eight people and wounding more than 40.