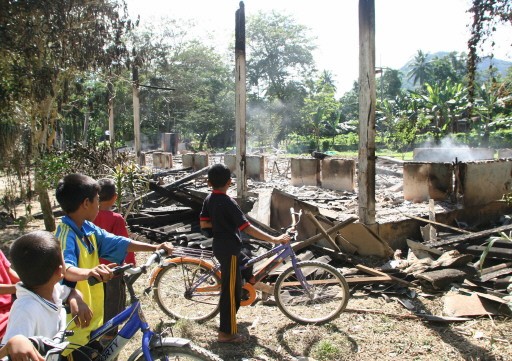 Thai Muslim children look at their damage classroom, set on fire by Islamic militants, in Yala province southern Thailand, Nov. 23, 2006 (AFP Photo)
Five people have been killed in a wave of attacks across Thailand's Muslim-majority south as militants target defence volunteers and schools, police said Thursday.
The attacks came ahead of a special cabinet meeting later Thursday, chaired by army-installed premier Surayud Chulanont, to discuss ways of tackling the violence raging in three southern provinces bordering Malaysia.
Amid the shootings, militants bombed an elementary school in Narathiwat early Thursday, damaging its cafeteria, and burned down a Buddhist man's house.
The militants left a note at the house, written in Thai, saying they would continue to carry out attacks against Buddhists in retaliation for the arrests of Islamic religious teachers.
In Yala Wednesday, an elementary school was destroyed in an arson attack, prompting local officials to close 72 schools in the province.
Violence has surged for the last month, despite a number of olive branches offered by the Surayud government, which took power after the September 19 coup.
On Tuesday his government decided to adopt the regional dialect of Malay as a working language for local officials. He has also apologized for past abuses by security forces.
Unlike the rest of Buddhist Thailand, people living in the provinces along the southern border with Malaysia are mainly Muslim and ethnic Malay. The region was an independent sultanate annexed by Thailand in 1902.