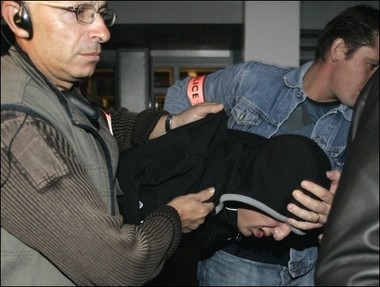 French police arrest a youth in connection with the arson fire set on a bus 28 October that seriously burned a woman passenger in the southern city of Marseille
French police detained five people, including at least three minors, for questioning in the search for arsonists who set fire to a bus and seriously burned a woman passenger in this southern city.
The five, one only 14-years-old, were taken into custody after a pre-dawn police raid in the area where a bus was doused with petrol and set alight on Saturday, a source close to the probe said.
Further detentions are likely during the day, the source added.
A 26-year-old Senegalese university student trapped on the bus was in hospital in critical condition with burns to more than 60 percent of her body, as France feared more nationwide street violence like the riots which rocked the country last year.
The attack was the worst incident in a surge of urban violence last weekend that coincided with the anniversary of riots that erupted across high-unemployment, mainly immigrant suburbs last year.
The prosecutor's office has opened a formal investigation for arson causing serious bodily harm or permanent injury, a crime liable to up to 30 years in prison.
About 50 police officers took part in Tuesday's raid, which lasted about an hour and went off without incident, according to the source.
Police in plain clothes raided several apartment buildings in Marseille suburbs in their hunt for the culprits.
"This is my son, he's 14, he has an alibi," cried one of the youth's father as police whisked him away in the raid.
The daily Le Parisien newspaper Tuesday reported that the perpetrators of the attack on the bus had reportedly been filmed by a video system on the vehicle.
Prime Minister Dominique de Villepin and Interior Minister Nicolas Sarkozy vowed Monday that everything would be done to catch the perpetrators who targeted the bus.
Sarkozy said those responsible would be brought to justice.
"Believe me, we will find them," he said after an emergency meeting with Villepin and transport chiefs.
"This is a promise I made to the family" of the woman, Mama Galledou, Sarkozy said. "And this promise will be kept."
The woman had recently obtained a master's degree in nutrition at a Marseille university, where shocked friends were to hold a rally in her support early Tuesday.
The head of the hospital burns clinic treating the injured woman, Jean-Claude Manelli said her face, legs, arms, hands and throat were burnt, exposing her to breathing, neurological and infectious problems.
She was on artificial respiration and in an artificial coma. Her family was with her but declined to comment.
Although the driver and other passengers escaped in time, the woman was unable to do so.
Villepin said he looked to toughening laws against those involved in such attacks, including against minors. He also urged witnesses to come forward so that the arsonists could be "brought before the courts."
President Jacques Chirac said in an intervivew in Le Figaro newspaper Tuesday that France must remain "firm in the face of violence" while working to guarantee opportunity to all citizens, including immigrants and their children.
"Everyone must be conscious of their role in society and reject violence," Chirac said, adding that the "situation remains difficult in certain areas".
He was buoyed by jobless figures showing unemployment fell to 8.8 percent of the workforce in September. In some areas worst-hit by last year's riots the jobless rate is as high as 40 percent.
Bus drivers in Marseille and Nice resumed work Monday after stoppages to protest the attack.
Two hundred extra riot police were deployed to Marseille to provide extra security.
Elsewhere in France, police reinforcements were also standing by after the weekend wave of violence.