A Russian soldier, a policeman and three rebels were killed in an upsurge of violence in the North Caucasus region, Russian news agencies reported.
The soldier was killed and two others injured as their convoy hit a bomb near the Chechen village of Novy Tsentoroi, RIA-Novosti and Interfax quoted local police as saying. The time of the attack was not given.
"As a result of the detonation of a roadside bomb made from a 152-millimetre shell a professional serviceman died," a police spokesman told RIA-Novosti, adding that investigators were at the scene.
Police were also searching for an unidentified attacker who shot dead a policeman at a petrol station in the Caucasus region of Kabardino-Balkaria on Monday.
"The inspector died of his wounds in hospital," RIA-Novosti quoted a local police source as saying.
In other incidents, two rebels were killed in separate clashes with police in the Chechen capital Grozny, Interfax reported, quoting police sources.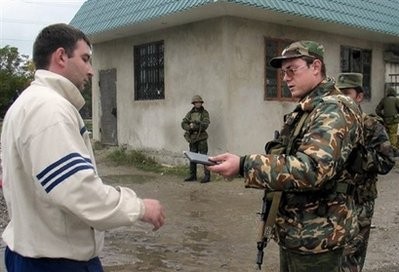 File picture shows Russian special forces checking documents in the Caucasus region of Kabardino-Balkaria
In both cases the fighters opened fire from their vehicles when ordered to halt for police inspections. The driver of one of the cars then blew himself up using a bomb inside his vehicle, Interfax and RIA Novosti reported.
A rebel fighter was also killed near a village in Ingushetia while he and two others were resisting arrest, Interfax quoted a police source as saying.
The clashes came after four policemen from Chechnya were killed in an explosion on Monday while on patrol along the administrative boundary with neighbouring Ingushetia.
Large parts of the mountainous Russian North Caucasus remain highly volatile in the wake of two full-scale wars fought against Chechen rebels in the post-Soviet era.
Insurgency has been fuelled by a mixture of separatist political ambitions, Muslim fundamentalism and rampant corruption and abuses by the authorities, analysts say.